International Steel Mills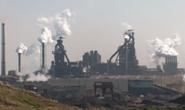 China Capacity Cuts Mostly Idled Production Says New Report
Written by Sandy Williams
February 14, 2017
---
The following article was prompted by a report coming out of a consulting group working for Greenpeace. SMU understands they have a political agenda but we wanted to provide our readers with what was being said and then some commentary at the end from one of our trading friends located in Asia who works with the Chinese steel mills.
China is coming under scrutiny for its steel capacity cut, with reports indicating that cuts were primarily made on already idled plants.
A report by Custeel, commissioned by Greenpeace, says less than a third of the 85 million tons of steel capacity closed in 2016 by China was from actively producing steel mills. According to Custeel, net capacity actually rose last year by 36.5 million tonnes, or 1 percent, as closures were offset by restart of previously suspended production and the addition of 12 million tonnes of new capacity. The total crude steel output was at 808 million tonnes for 2016.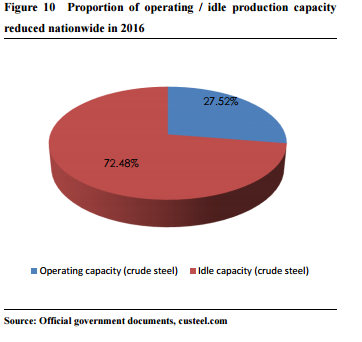 China has been struggling with overcoming provincial resistance to capacity cuts that affect province tax base and employment. The cuts are necessary, however, not only to reduce global capacity but to save the country from the unremitting smog caused by inefficient steel mills burning coal and sinter iron ore.
The report says ten Chinese provinces increased their operating capacity, especially Hebei, Shanxi and Tianjin in the Beijing region. Evidence of protection of the local steel industry was seen by the domination of closures by privately owned mills and those owned by the central government rather than those operated or subsidized by the provinces.
Background
At the end of the 1990s and the first decade of the 2000s government reform measures catapulted the Chinese steel industry to the largest in the world, capturing a 13.5 percent share of global output. By 2010, crude steel output reached 627 million tonnes and about a 44.3 percent global share. The economy slowed but the steel mills didn't.
From 2013 to 2015, China attempted to reduce overcapacity in the steel industry by supporting mergers, industrial concentration, increasing market competitiveness and expanding the industrial chain, said Custeel. Efforts to rein in the industry were unsuccessful with crude steel output reaching a historic peak in 2014 at 820 million tons, resulting in falling steel prices and surging exports. Heavy financial losses in the industry reduced output in 2015 to 804 million tonnes but by then China's crude steel steel production capacity was 1.13 billion tons.
In 2016, facing import restrictions from nations across the globe and out-of-control pollution from iron and steel plant emissions, the government proposed supply-side reform.
Wrote Custeel in its report, "It is worth noting that the proposed upgrading plan includes for the first time efforts to achieve a "net" reduction of 100–150 million tons in crude steel production. It also clarified that in the process of capacity replacement, four kinds of capacity cannot be used: capacity eliminated during and before 2015, backward capacity, capacity covered by the task of capacity reduction, and withdrawn capacity with subsidy and policy support from the government."
The new plan called for "Three Cuts, One Reduction, and One Improvement" to reduce capacity and improve competitiveness in the global steel industry.
Outlook
Custeel writes in its report, "The shortcomings of the overcapacity reduction effort apparent in 2016 developments threaten to undermine the effectiveness of the entire policy of cutting excess industrial capacity, unless addressed soon."
Reductions in China's operating steel capacity will need a focus on operating capacity rather than idled capacity.
Said Custeel in the report, "In the best-case scenario, if all the capacity eliminated in the coming year is operating capacity and no restarts of previously closed capacity take place, operating steel capacity could fall by approximately 66 million tonnes in 2017-2020. This would put the total reduction during the 13th FYP period at 30 Mt, a modest amount compared with the 100-150Mt reduction targeted in total capacity."
"If, instead, the capacity closures in the provinces continue to be dominated by idle capacity, operating capacity could increase by up to 20Mt. Even in the best case scenario, state-owned capacity is likely to increase, as the closures of operating capacity have disproportionately targeted privately owned mills."
Policy Recommendations
Greenpeace made the following recommendations based on the Custeel report:
Adjust overcapacity policies to ensure a substantial reduction in actual steel supply to the market by 2020, not only in capacity that exists on paper. 
Prevent future restarts of closed down capacity by demolishing rather than merely sealing up closed facilities. 
Carry out thorough investigations into various local governments' subsidies, loans and interventions that have prevented the effective functioning of market mechanisms and bankruptcy procedures. 
Prioritize the elimination of inefficient and highly polluting capacity to maximize environmental and economic benefits. 
Make full use of the bankruptcy mechanism to eliminate capacity at zombie companies.
SMU Note: We shared the original article about the Greenpeace study with one of our Asian trading friends who told us, "I can't really follow the article contents.. hard to understand what they are trying to say and using Greenpeace as a source, if it is, well they have little knowledge of China. But, the EAF mills are closed for sure, but having said that, who knows if they start back up later on down the road, as did the Integrated mills which shutdown 2 years ago. If the equipment has been sold, as a lot has, then they will not."

Latest in International Steel Mills