Economy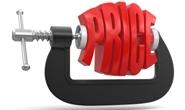 Key Pricing Driver for the Month: Supply
Written by John Packard
September 4, 2013
---
The key factor holding prices firm was the continuation of supply issues at the domestic steel mills.
During the month we had ArcelorMittal Indiana Harbor lose their #3 blast furnace for a week. The furnace is back online as of the end of the month.
We also had U.S. Steel performing maintenance on a furnace at Great Lakes and the lockout of their Lake Erie Works in Canada continued throughout the month of August.
AK Steel had furnace issues in July and spent the month of August catching up on orders affected by the July outage.
ThyssenKrupp Steel USA (Calvert, AL) sister plant in Brazil lost a furnace in May which came back online in late July. Due to production and transportation issues TKS USA was not able to rebuild their slab inventories as they had hoped to during the month of August.
Latest in Economy