Steel Mills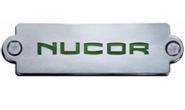 Nucor Guides to Improved Third Quarter
Written by Sandy Williams
September 17, 2013
---
In guidance remarks released Tuesday, Nucor Corp. said it expects the third quarter to outperform the second due to strong performance from its sheet and structural steel segment.   Sheet steel improvements are attributed to competitor supply disruptions, customer inventory restocking and market demand improvement.  The structural segment benefited from higher production following a planned maintenance outage at Yamato Steel in the second quarter and customer inventory restocking.  The fabricated construction product segment is also expected to show improved results at the end of the third quarter.
The Direct Reduced Iron (DRI) plant in Louisiana is in the final stages of hot commissioning and scheduled to start production within the next few weeks.  The raw materials segment is expected to report weaker results associated with start-up costs at the DRI facility. 
Nucor noted the non-residential market has been slow to gain and sustain momentum.  The company's strongest end markets are energy and automotive.
Latest in Steel Mills