Steel Mills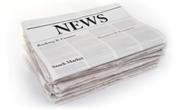 SDI Cautiously Optimistic on Nonresidential Construction
Written by Sandy Williams
September 19, 2013
---
Steel Dynamics offered guidance on Tuesday saying it anticipates a better third quarter as compared to the second quarter due to increase in shipments and average metal spread (spread being the difference between steel costs and selling prices).  In the sheet steel segment higher volumes and better spread increased profits, while in the long products division higher volume offset metal spread decline from decreased product pricing. 
Automotive and manufacturing are strong markets for the company.  Improvement of the residential construction market has increased demand for painted and Galvalume sheet products.  SDI remains cautiously optimistic on nonresidential construction as orders for construction related products pick up, including structural and fabricated steel products. 
Metals recycling shipments were higher in the third quarter but profits are expected to be offset by lower ferrous margins.  Losses from the Minnesota Operations due to installation of new equipment in April will continue to be felt in the third quarter.  Production rates at the operations are continuing to improve. 
The company will pay shareholders a quarterly cash dividend of $0.11/share as of September 30, 2013.
Latest in Steel Mills