Steel Mills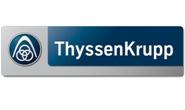 ThyssenKrupp Reports Finances as Improving
Written by Sandy Williams
December 3, 2013
---
ThyssenKrupp AG exceeded its target of positive EBIT for the 2012-2013 fiscal year, ending September 30, by 100 million euros. EBIT for the fiscal year was 599 million euros ($815 million) said management at the annual press conference.
Operating losses and impairment charges for Steel Americas (re-included in the fiscal year as a continuing operation), expenses associated with Outokumpu, fines from compliance violations, and restructuring costs came to 1,194 million euros ($1.62 billion), resulting in a net loss of 1.5 billion euros ($2 billion) for the fiscal year after taxes and interest. This was, however, a 70 percent improvement over the net loss of 5 billion euros ($6.8 billion) in the prior fiscal year.
The company reported a free cash flow of 600 million euros ($816 million)—the first time it has been in positive numbers in six years. Net financial debt was reduced to 5 billion euros ($6.8 billion) from 5.8 billion euros ($7.89 billion) year-over-year.
Sales for continuing operations decreased 7 percent to 38.6 billion euros ($52.5 billion), mostly due to declines in the materials business. Gains were reported in shipbuilding, plant technology and elevator technology.
On November 29 ThyssenKrupp signed an agreement with Outokumpu transferring 100 percent of the shares of VDM and AST as well as other smaller stainless steel service center activities to ThyssenKrupp. In return, the financial receivables of the Inoxum transaction will be transferred to Outokumpu. In addition, ThyssenKrupp will fully divest its 29.9 percent shareholding in Outokumpu and terminate all other financial links with Outokumpu.
On November 30 ThyssenKrupp announced the sale of the Calvert, Alabama plant to a joint venture partners ArcelorMittal and Nippon Steel & Sumitomo Metal Corporation (NSSMC) for $1.55 billion.
On December 2 ThyssenKrupp announced it will increase its capital stock by 10 percent to strengthen equity and reduce net financial debt.
In its outlook for FY 2013-2014, ThyssenKrupp said it expects increased sales and adjusted EBIT of 1 billion euros ($1.36 billion). A further decline in losses at Steel America is expected with positive earnings from all other business areas. Net debt is anticipated to drop due to cash inflow from the sale of the Calvert plant and the planned capital increase.
"With the same openness as a year ago, let me tell you today where we stand: When you restructure a company that has maneuvered itself into a deep crisis over a period of many years, it's also going to take years to put the company back on a sound footing," said CEO Dr. Heinrich Hiesinger. "…It was no easy year but we made significant progress."

Latest in Steel Mills