Steel Products Prices North America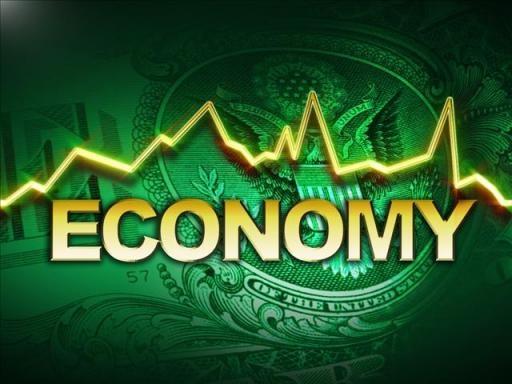 Industrial Production Exeeds Pre-Recession Peak
Written by Peter Wright
January 19, 2014
---
Industrial production and manufacturing capacity utilization, December 2013. Both these data points are reported in the Federal Reserve G17 data base. The IP index was reported as 101.76 for December; this was the first month for the index to exceed the pre-recession peak of September 2007. The three month moving average (3MMA) at 101.21 was the highest since January 2008 which was also the pre-recessionary peak. This index is based on the July 2007 level being defined as 100. The 3MMA of the year over year growth rate has accelerated for five straight months and in December stood at 3.6 percent.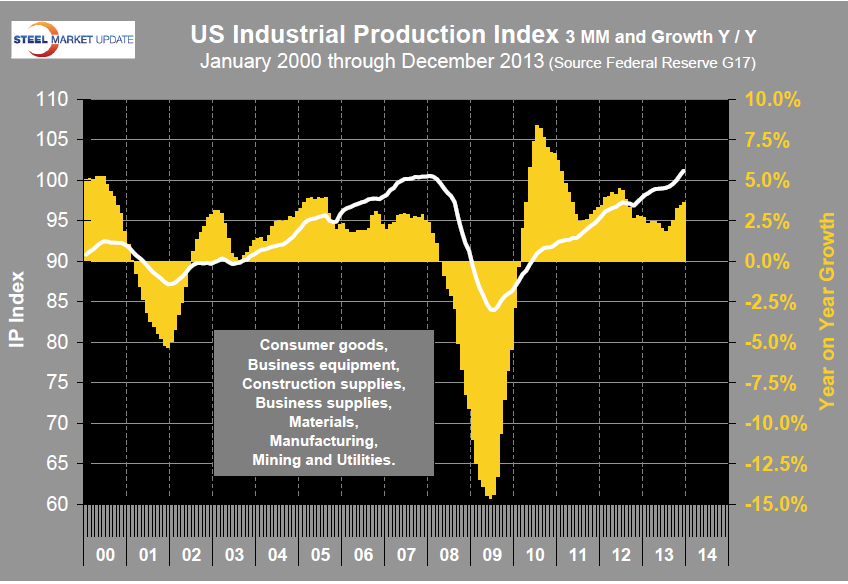 Manufacturing capacity utilization was 77.16 percent in December, up from 76.92 percent in November. The 3MMA rose by 0.31 percent to 76.88 percent and was up by 1.18 percent year-over-year (Figure 2).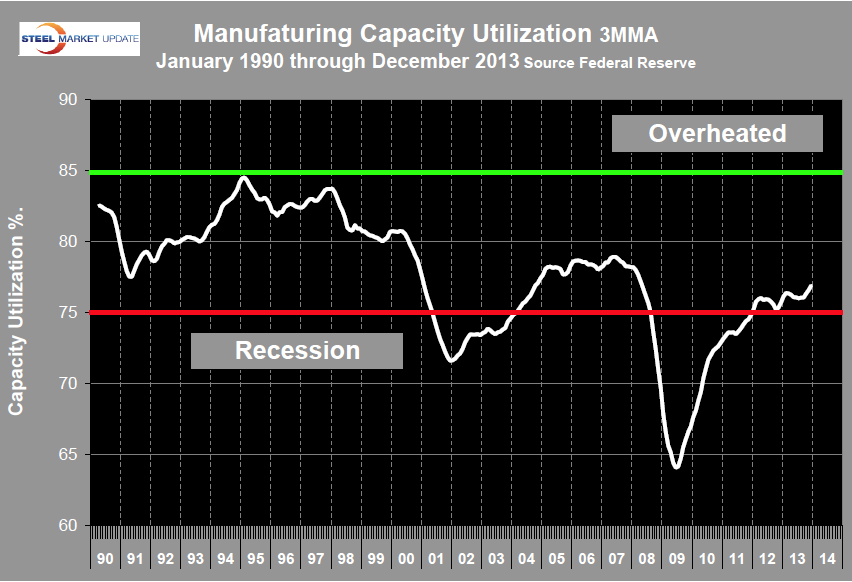 The Federal Reserve beige Book released on January 15th summarized economic conditions in the manufacturing sector as follows: "Reports from the 12 Districts generally painted a picture of steady growth in manufacturing. All but one District reported both growing sales and an optimistic outlook; only Kansas City reported a decline in manufacturing production and shipments in December, although activity remained above year-earlier levels. A manufacturer in the Dallas District said that for the first time since before the recession, his firm had too many jobs to bid on. Employment was generally described as "steady" with few instances of rapid growth but very few reports of staff cuts or plant closings. Contacts in several Districts reported concerns about health care cost inflation. Capital spending was generally up and contacts anticipated further growth. Three specific areas of strength in manufacturing were mentioned by multiple Districts: commercial aviation, autos, and construction materials. The Boston, Chicago, and San Francisco Districts reported exceptional strength in commercial aviation driven by record backlogs at major aircraft producers. The Richmond, Chicago, and San Francisco Districts said that the recovering housing market had led to increased demand for construction materials going all the way from raw materials like lumber to finished products like kitchen cabinets. Similarly, the Boston, Cleveland, Atlanta, and Chicago Districts reported above-average strength in the auto industry. Contacts in the Cleveland District said that most auto suppliers were at or near capacity; one respondent there estimated that 85 percent of auto suppliers should be adding capacity right now but indicated that many are reluctant to do so. The one area of weakness was manufacturers of defense-related products; contacts in the Cleveland District expressed hope that the recently enacted federal budget agreement would provide a boost to defense contractors this year and next."
SMU Comment: prior to the recession there was a reasonable correlation between industrial production and steel supply though steel was very much more volatile in this comparison just as it is against GDP (Figure 3). We have many indicators that suggest that steel supply is much lower than it should be at this stage of a recovery and IP is one of them. We believe the main reason for the discrepancy is the continued low activity by historical standards of the major sectors of construction. This includes, housing, non residential buildings and infrastructure.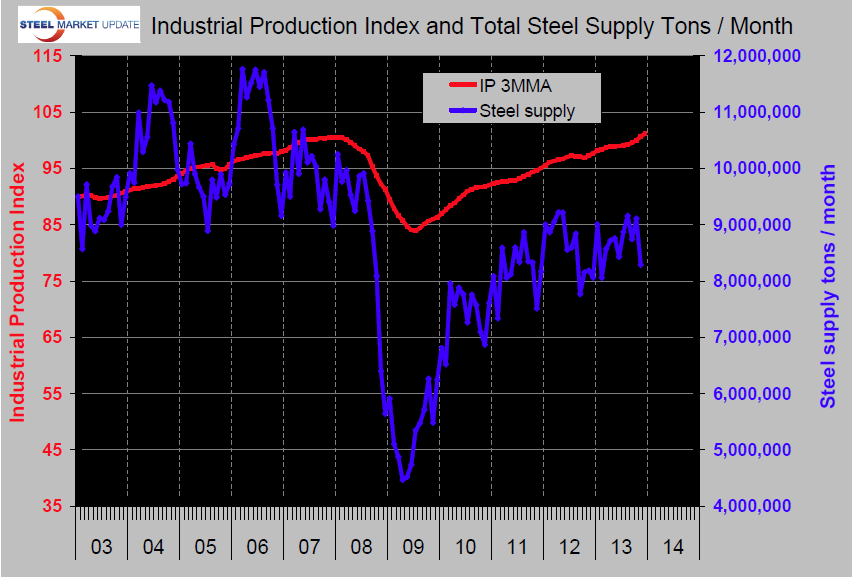 Latest in Steel Products Prices North America