Steel Markets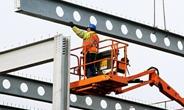 Gibraltar Expects New Growth to be Fueled by Residential Construction
Written by Sandy Williams
February 19, 2014
---
Gibraltar Industries is expecting 2014 growth to be driven mainly by the residential new construction and residential remodeling said the company in its earnings call on Feb. 20.
"While we're starting 2014 at a relatively slow pace given the cold and harsh weather in much of the country since the new year, we believe the U.S. housing market will continue its long-term recovery as the year progresses, said Brian Lipke, Chairman and Chief Executive Officer. "Also, severe weather conditions generally drive the need for a higher level of repair and maintenance for our residential building products. We expect to quickly put the weather-related issues behind us and resume building residential momentum as we did last year."
The industrial and infrastructure segment was relatively flat in 2013 but Gibraltar expects modest growth in manufacturing, automotive and refining for 2014.
"Manufacturing seems to have a stronger base including in-sourcing. It's coming back from offshore," said Kenneth Smith, Chief Financial Officer, Principal Accounting Officer and Senior Vice President.
Oil and gas construction growth may be fueled by increases in horizontal drilling. Lipke also says the Keystone Pipeline project could have a meaningful impact on product sales, noting that the acquisition a few years ago of Edvan Industries in the region positions it as an "early-stage beneficiary" when the project goes through.
Transportation infrastructure still looks uncertain with current federal appropriations expiring in September. Repair and replacement of aging bridges is essential said Lipke, but a new appropriation bill needs to be signed for bridge planning to advance.
"We believe the challenges that we're facing in our industrial end markets are largely short term in nature, setting the stage for a stronger performance in our industrial business weighted to the second half of the year," said Lipke.

Latest in Steel Markets