Scrap Prices North America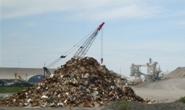 Weak Scrap Flows May Temper Any Drop in Scrap Pricing
Written by John Packard
February 27, 2014
---
A week ago the predictions regarding March scrap settlement prices were for prices to be down $20-$30 per gross ton (or more). However, as Steel Market Update got deeper into understanding the market we found, due to weather and other issues, flows into the scrap yards have been slow which has caused the scrap suppliers to be late with deliveries into the domestic steel mills – especially in the Midwest.
One of the larger scrap companies told us in an email, "The weather disruptions in February wreaked havoc on flows and shipments of scrap across the region.  Many operations were down for three or more days.  Many suppliers are well behind on orders and mills are calling daily looking for shipments.  Net, net its likely many mills will keep contracts open into March and assess the markets as the week unfolds.  Early discussions are anticipating down $15-20/gt across all grades, but consensus seems to be building for weakness over the next 30-60 days.  I wouldn't be surprised to see the markets back to October levels by April."
A Chicago area confirmed to SMU that they had sold scrap earlier this week at sideways (same price) as January.
So the pessimism seems to be waning and we will have to wait and see if our sources are correct. One first sign will be whether the domestic mills cancel their orders at the end of the day on Friday. This is something the mills will do when expectations are for prices to continue to decline. If they leave the orders which have not yet shipped intact, it will be a sign the mills expect prices to move sideways to higher.
From the East Coast we heard from one of our scrap sources who told us, "Flows of obsolete scrap throughout the northern part of the country have been absolutely terrible throughout February.  I have lost count of how many people I¹ve spoken with who are behind on shipping their orders.  If we didn't have the pressure of a weak export market, March would be back at January levels at least."
The supply dynamic that has existed since late last year, in which scrap is in shorter supply than it's been over the last decade, still exists. When the traditional exporters began selling scrap to domestic consumers, like they did in late-January and February, the supply dynamic changed of course.  But the reality of the scrap reservoir being generally shallower has not changed.  And the exporters will at some point go back to exporting and we will be back in the supply dynamic that existed before they were selling to domestic consumers.
To that point, there have been in excess of 30 cargos purchased by the Turks in the last several weeks, a bunch from the US.  The exporters do not own all this scrap and will need to buy it against prices that are well below domestic price levels.  It's a tough position for them.  The exporters may offer scrap domestically in March to try to bring the price down so they can be more competitive, but it's not realistic for the exporters to actually deliver large tonnages into the domestic market, especially as you move further west.  So the mills will need to decide how badly they need actual shipments when they decide what to pay in March.
I am thinking today that prices are down $10-$15/GT in the East and South and closer to sideways as you move into Midwest."
We will know more regarding the final settlement prices as we move into the latter part of the first week of March.

Latest in Scrap Prices North America