Economy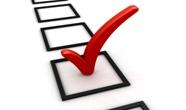 Metalformers Regaining Optimism in March
Written by Sandy Williams
March 16, 2014
---
After a shake in confidence last month, metalforming companies are once again optimistic that business conditions will improve in the next three months, albeit only slightly. Metal companies surveyed in the March 2014 Precision Metalforming Association (PMA) Business Conditions Report, however, are anticipating new orders to fall slightly during that same period.
Current average daily shipping levels improved in March with 48 percent reporting levels higher than three months. Lead times are about the same or somewhat shorter than 3 months ago, with 80 percent expressing no change, and 14 percent reporting lead times as shorter (up from 10 percent in February).
In March, 11 percent of those surveyed reported workforce on short time or layoff, up from 6 percent last month.
"Business conditions continue to be quite positive in the overall metalforming industry," said William E. Gaskin, PMA president. "Companies continue to be cautious, due to higher costs of health care, continued threats of increased regulatory burdens and the failure of job figures to rise as they should if the economy is on a path to a stronger recovery. However, in a separate PMA monthly orders and shipment report, there were strong numbers posted for January new orders and shipments vs December 2013. It looks like Q-1 is off to a good start, and this month's Business Conditions Report suggests that this should continue for at least the next few months."
The March PMA Business Conditions Report is based on responses from 117 PMA manufacturing members in the US and Canada. The full report may be read at www.pma.org.
Latest in Economy