Steel Products Prices North America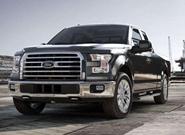 The Backbone of the Ford F-150 Will Be Made of Steel
Written by Sandy Williams
April 15, 2014
---
SMU recently published an article about the excitement in the aluminum industry regarding automotive applications. We asked for comments from the steel industry on the competition by aluminum for a share of the automotive manufacturing industry. We received the following comments from Ron Krupitzer, vice president, automotive market for the Steel Market Development Institute (SMDI):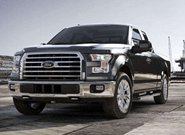 "The drive to higher-fuel economy because of the new fuel economy regulations are driving all car companies to consider every option in order to comply, including aluminum, but also including new high-strength steel options.
"It should be noted that Ford also is building the new F-150 on a brand new lightweight advanced high-strength steel (AHSS) frame. So, the frame redesign itself contributes at least 80 pounds to the 700 pounds of weight savings claimed by Ford. The toughness of the new F-150 will have a lot more to do with the frame than with the aluminum body."
"The term "military-grade" aluminum sounds good as a marketing term for the aluminum industry and Ford. In fact, the 5000 and 6000 series aluminum alloys are commonly used throughout automotive, commercial and military applications and there really is no special specification at all to differentiate military aluminum from commercial or automotive aluminum sheet grades. One thing for sure, the strength levels of the new AHSS grades, which now take production steels from 300 to 1800 MPa in today's vehicles, dwarf the higher-strength heat-treated aluminum grades considered in the military-grade class– like the 6062 or 6063 aluminum grades tempered to maximum strength of about 310 MPa which fall at the extreme end of the available steel strength range.
"Also, it should be pointed out that many parts converted to aluminum during this period of experimentation will in all likelihood switch back to steel in the near future, and not gain weight in the process. Last year the Auto/Steel Partnership – which includes the major North American Steel producers and Chrysler, Ford and General Motors – studied a best-in-class forged aluminum front lower control arm and discovered that the same lightweight performance could be achieved with AHSS at 34% lower cost in a clamshell design. At least one OEM has already converted several platforms back to steel for this part and not added any weight to the vehicle, but certainly benefitted from the cost reduction.
"SMDI certainly supports the statement from U. S. Steel in your article and we anticipate that new AHSS steel products will compete with aluminum, magnesium and plastics for some time to come, and that the value of steel cost-effective weight reduction will enable steel to remain the structural material of choice in cars and trucks far into the future."

Latest in Steel Products Prices North America