Steel Markets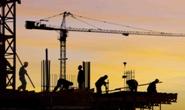 NA Caterpillar Sales up 16% on Construction Spending
Written by Sandy Williams
April 23, 2014
---
Caterpillar reported that, excluding restructuring costs, earnings were flat in first quarter compared to first quarter 2013.  Sales and revenues totaled $13.241 billion. North American sales for Machinery, Energy & Transportation were up 16 percent year over year to $5,219 million in the first quarter of 2014.
Construction industry sales were up 36 percent to $2,092 million due to increases in dealer inventory and higher end-use demand due to higher construction-related spending.
Energy & Transportation sales rose 15 percent year over year to $2,082 million. Higher sales were primarily the result of increased demand for drilling and well servicing and favorable changes in dealer inventory for oil and gas applications.
Resource industry sales were $725 million in North America, a drop of 14 percent, due to lower demand. Mining companies are looking to increase productivity at existing mines rather than investing in expansions or new mines.
"Given the business and economic uncertainties around the world and continuing decline in our mining sales, I am pleased with our performance in the first quarter.  We understand we don't control the economy and have instead focused on what we can improve.  We're lowering costs, improving cash flow and driving value for our customers through the continued deployment of our lean manufacturing initiatives.  We see the benefits of these actions in our first-quarter results and in improving market position for many of our products," said Caterpillar Chairman and Chief Executive Officer Doug Oberhelman.
In the company's 2014 outlook, construction industry sales are expected to increase by 10 percent from 2013, a change from 5 percent previously forecast.  Energy and transportation sales will be up 5 percent in 2014 but resource industries are anticipated to be lower than expected—down 20 percent instead of 10 percent. Mining equipment orders have continued to be weak and sales are not expected to improve much in 2014. 
Caterpillar is concerned about the risk of geo-political events, especially the situation in the Ukraine and Russia and its potential for negative impacts on trade and global GDP growth. "The global economy remains fragile, and as such, one or two setbacks could create substantial downside risk for the global economic recovery," said Oberhelman.
Caterpillar expects sales and revenue of about $56 billion plus or minus 5 percent in 2014. Restructuring costs are widespread across the company and are anticipated at $400 to $500 million this year.

Latest in Steel Markets