Economy
Global PMI Indicates Slower Expansion
Written by Sandy Williams
May 5, 2014
---
The JP Morgan Global PMI was at a six-month low in April but indicated manufacturing remains in the expansion range. At 51.9 the score reflected weaker production and new orders. The PMI was negatively affected by the downturn in production and new business that followed an increase in sales tax in Japan. The US and UK showed acceleration in output and new order growth. The Eurozone hit a three month high for output and was close to the three year high seen in January. Asia manufacturing output declined in China, South Korea and Indonesia. Brazil and Russia production fell in April.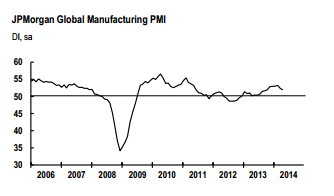 Commenting on the survey, David Hensley, Director of Global Economics Coordination at JP Morgan, said: "Growth of global manufacturing output and new orders slowed during April. However, this mainly reflected the timing of a change in sales tax in Japan that impacted on the performance of that nation's manufacturing sector. The effects of this should only be temporary and, with rates of expansion tracking slightly higher on average elsewhere, growth of world IP should settle back at its Q1 pace moving towards mid-year."
Eurozone
The Eurozone PMI rose to 54.4 in April from 43.0 in March. It was the tenth successive month of expansion in the region. For the first time since 2007, all the countries in the Eurozone registered above the 50 mark that indicates growth expansion. Output and new business increased across the board. Domestic markets continued to stabilize and export orders increased in all nations except Greece and Austria. Chris Williamson, Chief Economist at Markit said the Eurozone PMI "paints a promising picture for the region's manufacturers."
"It remains to be seen whether this strengthening of demand will feed through to more pricing power, which remains weak due to the widespread existence of spare capacity and high unemployment in many countries," said Williamson. "With factory gate prices falling for a second month running, policymakers will remain concerned about deflationary forces."
China
Manufacturing operations deteriorated in April with both output and new orders decreasing although at a slower rate than in March. The HSBC PMI registered 48.1, compared to 48.0 in March. Firms cut staff and reduced inventory as a result of weaker domestic demand. Exports decreased only slightly during April. Input prices and output prices both saw a solid rate of reduction during the month. New reform measures may support private sector investment that could help the economy regain growth momentum.
Japan
A rise in sales tax caused output and new orders to fall for the first time in 14 months. The Markit/JMMA Japan Manufacturing PMI fell to 49.4 from 53.9 in March. Employment growth increased at its highest rate since 2007 as manufacturers anticipated higher workloads. Inventories of finished goods accumulated as demand slowed but was at the weakest rate in three months. Exports declined for the first time in eight months, albeit marginally. Prices charged and input prices both rose in April blamed in part on increase in raw material prices and the depreciation of the yen for higher import costs. Selling prices decreased only slightly.
Russia
Business conditions continue to be weak in Russia with the PMI contraction extending for the sixth month. Output, new orders, exports, employment, backlogs and purchasing all declined in April. The HSBC Russia Manufacturing PMI registered 48.5, up very slightly from March and below the neutral 50.0 mark. Employment levels fell for the tenth month. Exports fell for the eighth month. Inflation pressures eased from March but continue to be high due to the weakening ruble exchange rate. Commenting on the April PMI, Alexander Morozov, Chief Economist (Russia and CIS) at HSBC said, "So, we are concerned that Russian manufacturing seems getting used to life in a recessionary environment that risks becoming the new norm."
Brazil
The Brazil PMI fell from 50.6 in March to 49.3, a nine month low. Manufacturing production fell for the first time since August 2013. Weaker demand, competitive pressures and economic uncertainty contributed to the deterioration.
Mexico
The HSBC Manufacturing PMI inched up only slightly in April registering 51.8 compared to 51.7 in March. Business conditions were generally weak during the month. HSBC reported "subdued growth of new work resulted in cautious inventory strategies and slower rises in input buying during April."
Canada
The RBC PMI registered 52.9, down slightly from 53.3 in March. Supply chain disruptions in April led to longer delivery times and backlogs. Output rose but at a slower rate than in March. Employment levels rose at the fastest rate since November 2013. Exchange rate depreciation and stronger demand from the US.

Latest in Economy