Steel Mills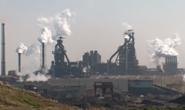 Severstal Dearborn Air Emission Permit Approved
Written by Sandy Williams
May 13, 2014
---
The hotly contested air emission permit requested by Severstal Dearborn was approved on Monday by the Michigan Department of Environmental Quality (DEQ).
The new permit does not increase the emissions levels that the plant is currently operating under but will reflect those emissions more accurately than was possible in 2007 when the previous permit was issued. Severstal Dearborn continues to operate within federal air-safety guidelines.
Residents in the area are unhappy with the decision claiming the current emissions create a health risk. The mill has been issued 38 violation notices by the DEQ since 2010. The past violations are a separate matter from the permitting process said Vince Hellwig, chief DEQ Air Quality Division.
"The DEQ and federal authorities will continue actively pursuing resolution of its enforcement case," said Hellwig in a statement released Monday. "But the enforcement is about yesterday. The permit we announce today is about tomorrow, and we are pleased to finally have a clear, reliable permit for one of the state's largest industrial operations."
Latest in Steel Mills