Economy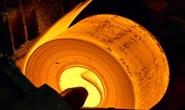 Great Designs in Steel
Written by John Packard
May 16, 2014
---
Steel Market Update attended SMDI's "Great Designs in Steel" conference on May 14. This was the 12th year of the popular GDIS conference, and it was well attended with over 1200 auto steel players. The focus of the conference was on auto light weighting through the use of advanced high strength steels (AHSS). There were a plethora of presenters speaking to the engineering, metallurgical, and fabrication applications of advanced high strength steels.
While walking through the crowded corridors packed with auto industry reps, mill reps, fabricators, and engineers, you couldn't miss the marvels of AHSS engineering on display. From door panels, truck frames, to the steel skin of the 2014 Ford Mustang, the place was alive with the buzz of curious steel disciples all eager to learn more about the latest advances in AHSS applications.
One group that has been leading the way with the research and development of the 3rd generation AHSS is the United States Automotive Materials Partnership. The USAMP is a collaborative organization supported by Chrysler Group LLC, Ford Motor Company, General Motors, and The Auto/Steel Partnership. GM research and development scientist Lou Hector, a leading researcher with the USAMP spoke at the "Great Designs in Steel" conference.
Mr. Hector is currently leading an integrated computational materials engineering (ICME) research project to demonstrate the applicability of ICME for the development and deployment of third generation AHSS for passenger vehicle weight reduction. Hector stated that "The goal is to generate models to be used in commercial modeling applications, and model steels that don't yet exist, so that they can one day be produced".
According to Hector, the ICME project received a $6 million funding grant from the DOE and is further supported by a number of universities, steel mills, and auto companies including: Brown University, Clemson University, Colorado School of Mines, Michigan State University, Pacific Northwest National Lab, University of Illinois, GM, Ford Motor Company, Chrysler, AK Steel, ArcelorMittal, Nucor, ThyssenKrupp, US Steel, and Severstal.
The ICME models are capable of predicting formability, fracture, and performance. Hector believes that these ICME models will reduce the risk of developing new materials and ultimately improve performance, and improve fuel economy.
This project recently produced its first heat at AK Steel and has undergone formability tests at Severstal. For more information on the ICME 3GAHSS modeling research, you may contact the USAMP or The Auto/Steel Partnership.

Latest in Economy