Steel Markets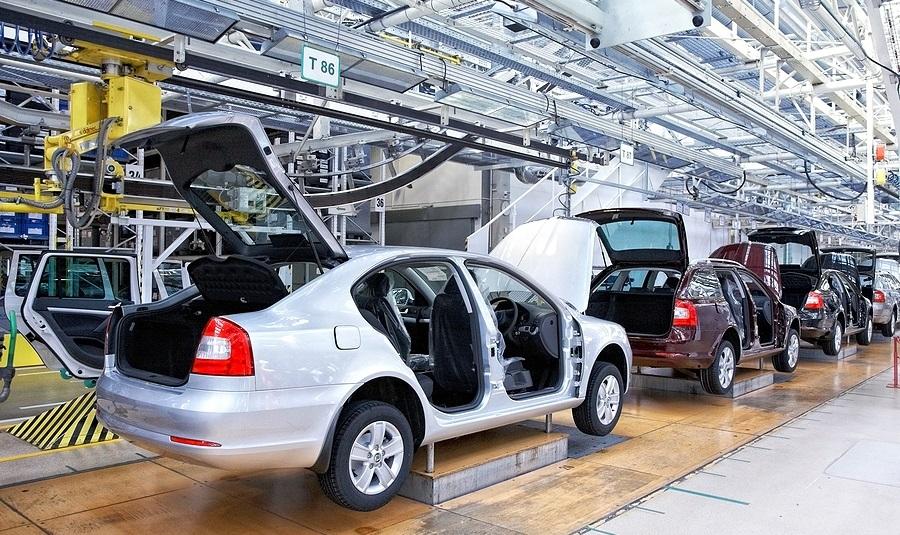 NAFTA Light Vehicle Production for June
Written by John Packard
July 20, 2014
---
U.S. light vehicle sales beat expectations again in June by surging to 17.0 million units at a seasonally adjusted annual rate, (SAAR). This was the best performance since mid-2006. All of the improvement was in auto sales which increased from 8.1 to 8.3 million SAAR. Light truck sales were flat at 8.7 million. Pent-up demand, easier access to credit, and an improving job market have fueled sales. Light vehicles are autos and light trucks (GVW Classes 1-3, under 14,001 lbs.). Crossovers are classified as light trucks which considerably swells that sector's sales and production numbers.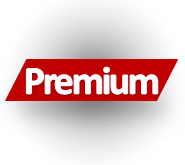 Sales increases were strong across all the major manufacturers. The Detroit three were up by 8.9 percent year over year led by Chrysler, up by 18.2 percent. The European manufacturers were up by 7.6 percent led by Audi up by 33.3 percent, VW was down by 15.5 percent. The Asian companies were up by 10.7 percent with a wide range of performance. The largest Asian presence, Toyota was up by 11.9 percent at 201,000 units. This puts Toyota in third place for US sales behind GM and Ford.
Total light vehicle production in NAFTA in June was at an annual rate of 17,575,000 units, down by 2.7% from May but still the third best month of the year. Medium and heavy truck production in June was at an annual rate of 470,000 units up from 447,000 units in May. On a rolling 12 months basis y/y light vehicle production in NAFTA increased by 5.3 percent and is now well above the pre-recession peak, (Figure 1).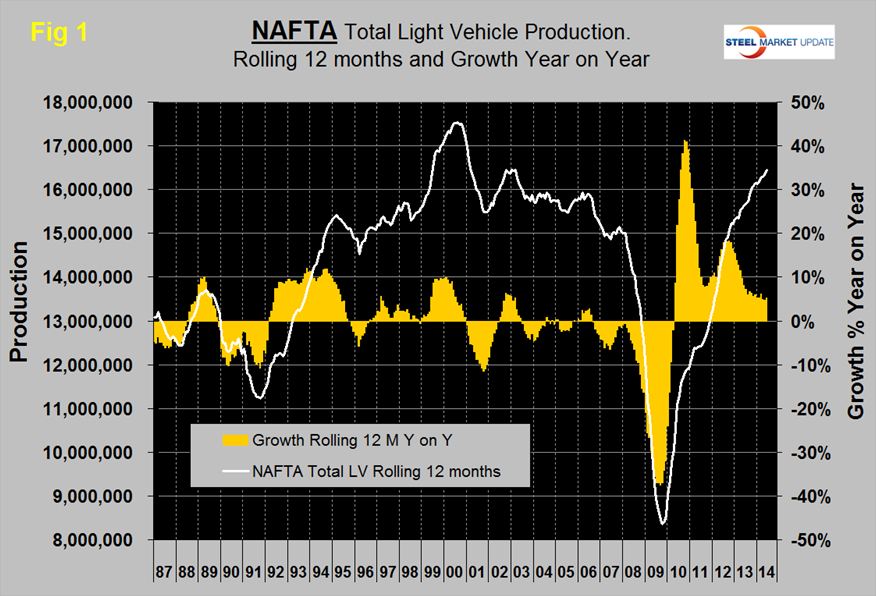 On this basis, the US is up by 7.2 percent, Canada is down by 0.6 percent and Mexico is up by 3.6 percent, (Table 1). For NAFTA as a whole on a rolling 12 month basis year over year, light truck production is up by 10.7 percent and autos are down by 1.2 percent. A time comparison such as this is very strong evidence of a long term shift in consumer preference, probably driven by the crossover sub set of light trucks.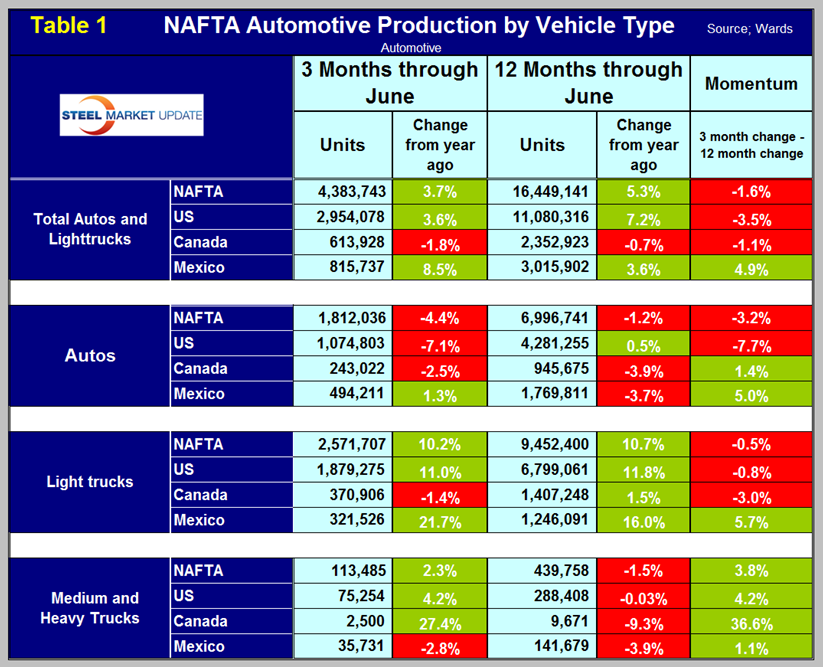 Total light vehicle production in NAFTA on a three month moving average basis is now 6.6 percent higher than it was in the pre-recessionary peak of Q2 2006, however there is a big difference between the recoveries of the three nations, (Table 2). The US is up by 0.8 percent, Canada is still down by 10.5 percent and Mexico is up by 63.8 percent.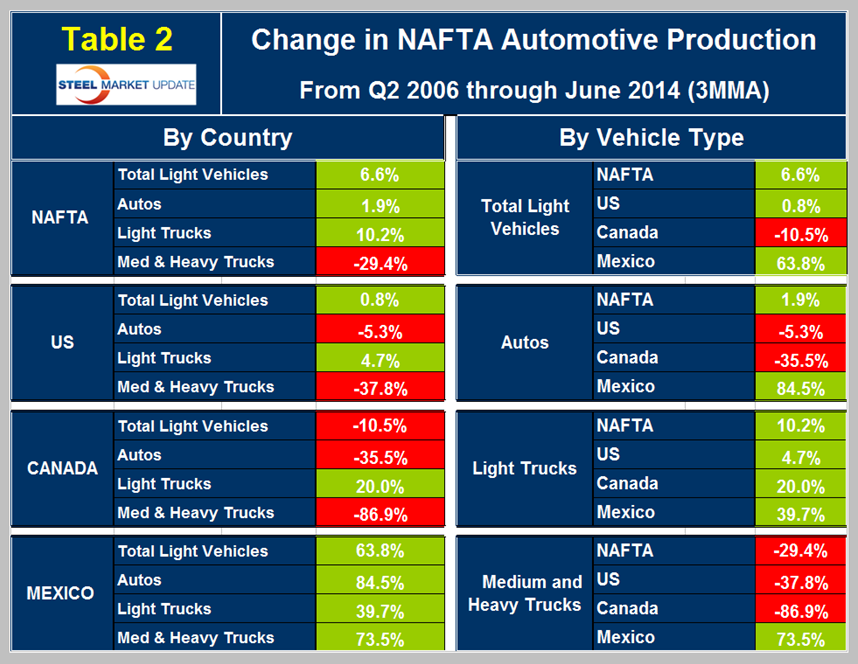 These numbers overstate the performance of Mexico who had a very rapid surge in late 2010 but who has since slowed to a rate exactly half that of the US on a rolling 12 month basis y/y. Figure 2 shows the production share of light vehicles achieved by the three nations since 1987. The US has been doing well at the expense of both Canada and Mexico in the last 3.5 years and as we have reported previously the capital expenditure plans of the auto companies in the US far exceed Mexico. Having said that, on June 3rd BMW confirmed their intention to build a new $1 billion assembly plant in San Louis Potosi, Mexico. Capacity will be 150,000 vehicles per year with startup in 2019 and will employ 1,500 people.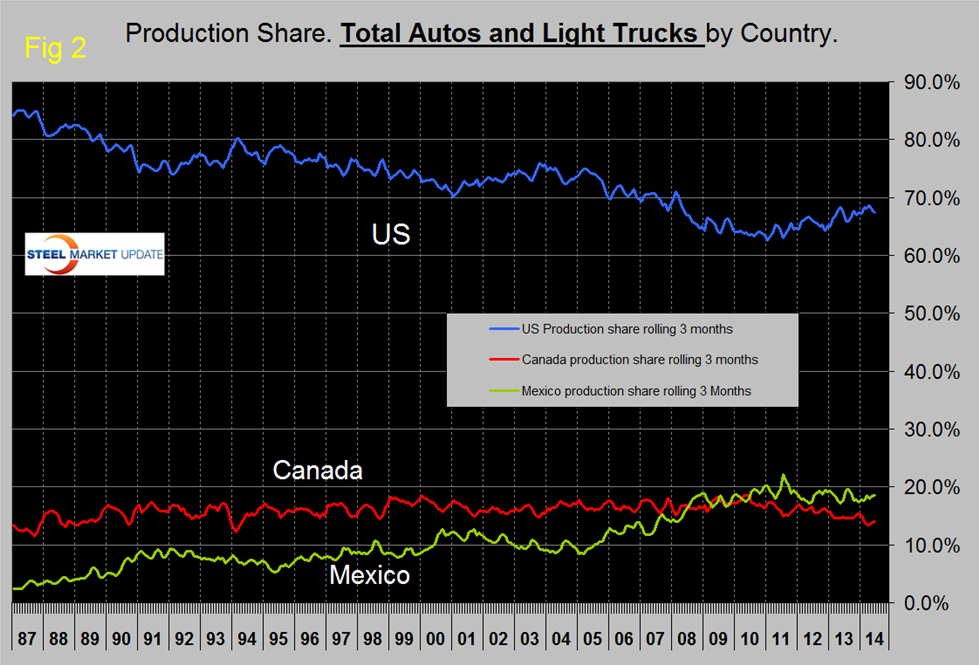 Medium and heavy truck production in NAFTA in June was 470,000 units SAAR, the best performance since May last year but on a rolling 12 months basis M&HTs declined by 1.5 percent, (Figure 3). This decline has occurred every month so far in 2014 and ranges from – 0.03 percent for the US to – 9.3 percent for Canada.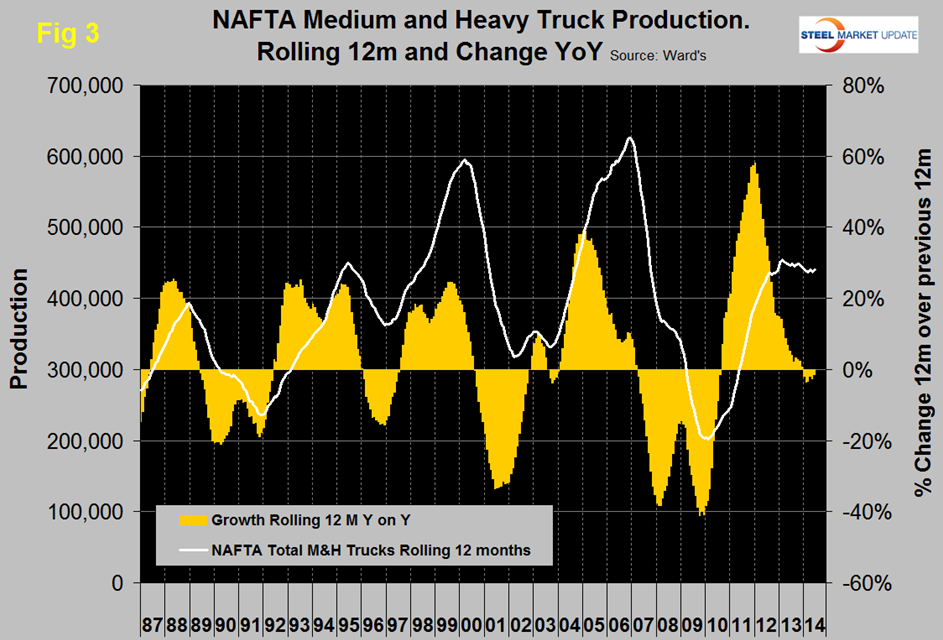 This turned around in the last three months in the US and Canada but not in Mexico. The production share trends for medium and heavy trucks is similar to light vehicles, (Figure 4). The US has been gaining share for four years at the expense of Mexico. Canada's share has been flat since late 2009.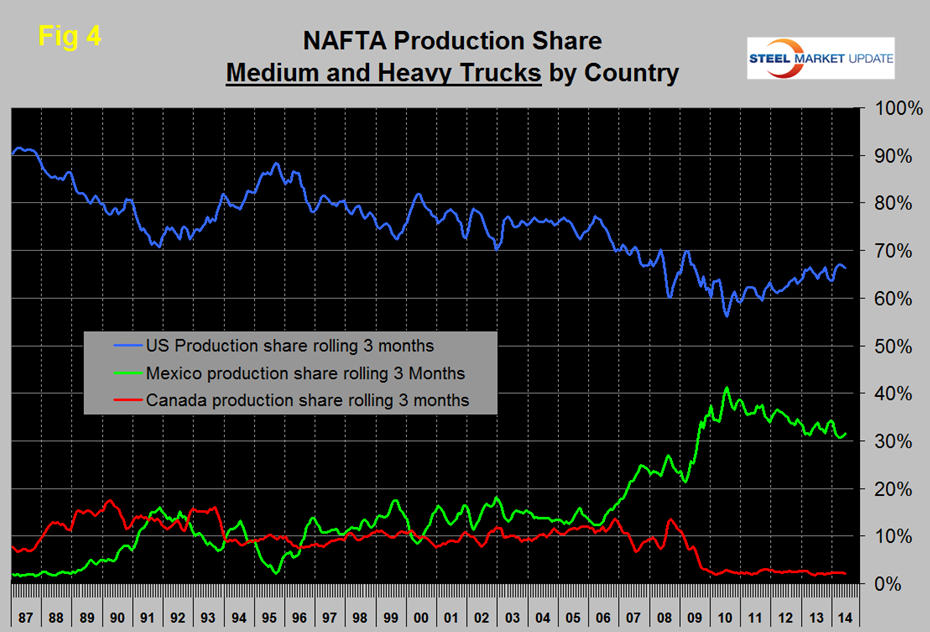 Ward's Automotive reported last week that light vehicle inventories declined by one day of sales in June to 59 days. Inventories of the Detroit 3 also declined by one to 71 days, the Asian manufacturers were unchanged at 49 days and the Europeans declined by six also to 49 days.

Latest in Steel Markets