Economy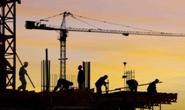 Dodge Momentum Index Drops in July
Written by Sandy Williams
August 12, 2014
---
The Dodge Momentum Index, a monthly measure of initial reports for nonresidential building projects in planning, fell 4.4 percent in July after making gains the last three months. On a year-over-year basis the index is still 16.5 percent higher than the same month last year.
"The July decline, therefore, may simply be a return to a more sustainable pace following a spring bump," according to McGraw Hill Construction.
Commercial building plans declined 6.8 percent while institutional sector planning fell by 0.6 percent. Planning for six projects valued at $100 million or more were initiated in July—two in New York, two in Florida and one each in California and Texas.
The Dodge Momentum Index, published monthly by McGraw Hill Construction, a division of McGraw Hill Financial, leads construction spending by a full year and can be used an indicator for future construction. Any reading above 100, established for year 2000, indicates growth in construction planning.
SMU Note: You can view the interactive graphic below when you are logged into the website and reading the newsletter online. If you have not logged into the website in the past and need your username and password, contact us at: info@SteelMarketUpdate.com or by calling 800-432-3475. If you need help navigating the website we would also be very happy to assist you.
{amchart id="125″ Dodge Momentum Index}
Latest in Economy