Steel Markets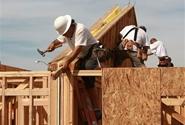 Housing Starts Dive After July High
Written by Sandy Williams
September 18, 2014
---
Housing starts and building permit authorizations fell in August according to data from the U.S. Department of Commerce.
Housing starts were at a seasonally adjusted annual rate of 956,000, 14.4 percent below the July revised estimate of 1,117,000 but 8.0 percent above the August 2013 estimate. Single family housing starts fell 2.4 percent to a rate of 643,000 and starts for multifamily units of five or more fell 31.5 percent to a rate of 304,000. Housing starts on a three month moving average continue to show an upward trend indicating growth in the residential construction industry. Regionally, starts fell in all four U.S. regions with the greatest decrease in the West at 24.7 percent. 
Housing permit authorizations for single family homes totaled 998,000 at a seasonally adjusted annual rate, down 5.6 percent from July's revised rate of 1,057,000 but up 5.3 percent year over year. Multifamily authorizations for five units or more were down 13.4 percent from the previous month but up 17.5 percent from August 2013.
Housing completions rose 3.2 percent from July to a seasonally adjusted annual rate of 892,000, up 16.9 percent from August 2013. Single family housing completions, at a rate of 591,000, were 8.2 percent below July's revised rate. Multifamily completions rose 37.1 percent from August to a rate of 292,000.
The monthly declines in starts and permits were a blip after reaching the highest level since November 2007 in July. Builder confidence continues to strengthen according to the National Association of Home Builders. The NAHB/Wells Fargo Housing Market Index (HMI) rose 4 points in the September survey to its highest reading since November 2005.
"Since early summer, builders in many markets across the nation have been reporting that buyer interest and traffic have picked up, which is a positive sign that the housing market is moving in the right direction," said NAHB Chairman Kevin Kelly, a home builder and developer from Wilmington, Del.
"While a firming job market is helping to unleash pent-up demand for new homes and contributing to a gradual, upward trend in builder confidence, we are still not seeing much activity from first-time home buyers," said NAHB Chief Economist David Crowe. "Other factors impeding the pace of the housing recovery include persistently tight credit conditions for consumers and rising costs for materials, lots and labor."
Existing home sales rose for the fourth consecutive month in July with price increases beginning to moderate. Analysts suggest that buyers are purchasing lower prices existing homes instead of new construction. A trend toward renting rather than purchasing has been a driving force behind apartment construction.
SMU Note: You can view the interactive graphic on Housing Starts (3MMA) below when you are logged into the website and reading the newsletter online. If you have not logged into the website in the past and need your username and password, contact us at: info@SteelMarketUpdate.com or by calling 800-432-3475. If you need help navigating the website we would also be very happy to assist you.
{amchart id="91″ Total Housing Starts Analysis, 3MMA}

Latest in Steel Markets