Economy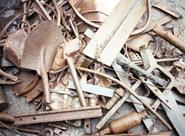 Scrap Exports Down 19.4%
Written by Peter Wright
November 8, 2014
---
In the first nine months of 2014, scrap exports totaled 11,586,000 tonnes, down by 19.4 percent from the same period in 2013.
In the single month of September exports were 1,163,489 tonnes, this was the second lowest month of the year following August which was the highest month. That's why, in most cases, SMU uses three month averages in its data analysis.  Figure 1 shows that the three month moving average has been fairly consistent for the last five months through September and continued to be lower than the average in any year from 2008 through 2013.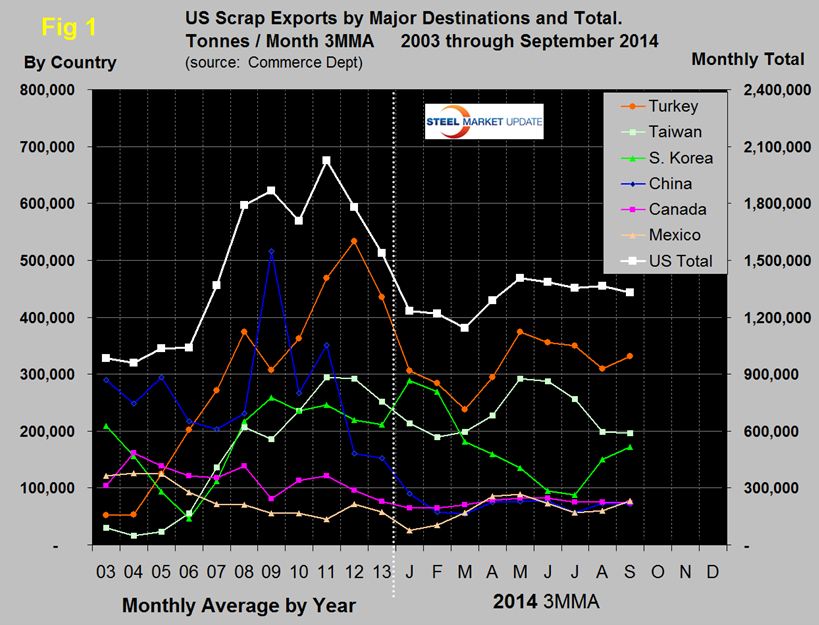 The most obvious trends so far this year are the decline of Turkey and Taiwan since May and the increase of Korea in August and September. Year to date Turkey is down by 1.4 million tonnes or 32.7 percent. China's tonnage has been quite consistently low this year on a 3MMA basis ranging from 53,000 to 90,000 tons per month. This is compared to over 500,000 tonnes per month in 2009 when they were the highest volume importer.   
On November 4th AMM reported: US bulk ferrous scrap prices slipped again in the last week due to poor demand from major importers. Turkish mills bought only (half their normal average weekly buy), but only one cargo was sourced in the US as buyers focused on European sources.
In YTD 2014 compared to the same period in 2013, the Far East as a whole is down by 22.4 percent and China is down by 58.6 percent. The decline of the Japanese Yen probably is a big factor in the Far East though we have no facts to substantiate that assumption. Other nations not considered in this analysis because they have been historically minor purchasers were down in total by 304,000 tonnes YTD.  Some nations have taken more tonnage this year than last, Indonesian purchases have almost doubled at 274,000 tons and Thailand which took almost nothing last year is up by a factor of ten at 367,000 tons, Mexico is up by 64,000 tonnes and Vietnam by 81,000 tons. Tonnage moving North over the Canadian border, YTD was down by 28,000 tonnes from last year.
 
Scrap export prices are reported by the AMM every Tuesday for an 80:20 mix of #1 and #2 heavy melt in US $ per tonne FOB New York and Los Angeles for bulk tonnage sales. Prices on the both coasts have been in free fall since August 25th. In the time frame since then to November 4th, East Coast export prices were down by $62.56 to $305.10 and the West Coast was down by $68.00 to $286.50.

Latest in Economy