Steel Markets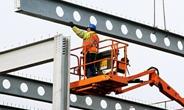 Dodge Momentum Index: Non-Residential Construction Increased in October
Written by Sandy Williams
November 15, 2014
---
The Dodge Momentum Index, an indicator of nonresidential construction intentions, rose 7.6 percent in October. The following is the press release from Dodge Data & Analytics.
NEW YORK – NEW YORK – The Dodge Momentum Index rose in October, climbing to 125.5 (2000=100) for the month, up 7.6% from September's reading of 116.6 according to Dodge Data & Analytics. The Momentum Index is a monthly measure of the first (or initial) report for nonresidential building projects in planning, which have been shown to lead construction spending for nonresidential buildings by a full year. The Momentum Index had declined in each of the previous three months, and the increase in October returns the Index to the rising trend seen during the first half of this year. The Momentum Index now stands 18% above last year, which indicates that overall healthy economic growth is working its way through to the construction sector.
The October rise in the Momentum Index was the result of greater planning activity for its two main segments – institutional building, up 8.8% for the month; and commercial building, up 6.8%. There were six commercial building projects exceeding $100 million that entered into planning during the month: the $200 million Potomac Yard Office Building in Alexandria VA, the $200 million Waterfront Office Development in Austin TX, a $150 million warehouse in Eastvale CA, the $125 million Hudson Hotel in Philadelphia PA, a $100 million Phase 2 rehabilitation of the Constitution Gardens in Washington DC, and the $100 million Stadium Walk in Atlanta GA.
Below is an interactive graphic of the Dodge Momentum Index History, but it can only be seen when you are logged into the website and reading the newsletter online. If you need any assistance logging in or navigating the website, contact us at info@SteelMarketUpdate.com or 800-432-3475.
{amchart id="125″ Dodge Momentum Index}


Latest in Steel Markets