Steel Products Prices North America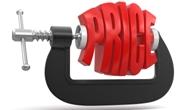 Comparison Price Indices: Pivotal Week Ahead
Written by John Packard
November 30, 2014
---
With the exception of Platts, all of the other flat rolled steel indexes reported benchmark hot rolled pricing as being down $5-$9 per ton this past week. Our average also declined by $5 per ton and now sits at $637 per ton.
With at least one mill offering spot hot rolled at, or below, $600 per ton to large buyers, SMU believes there will be more erosion to come in the next week or two. We are also hearing reports of mills that have not had many spot tons to offer into the market, now reversing course. This is due to the repair and return to production of blast furnaces at AK Steel, ArcelorMittal USA and US Steel.
This coming week could be a pivotal one for the industry as news of the offers circulate through the industry and buyers (and other mills) react to them.

Our cold rolled average was down $3 per ton to $759 per ton and we have a relatively tight spread between the indexes on CRC.
Galvanized .060" G90 benchmark prices were down $2 per ton, Galvalume was unchanged (too few price points to make a change) and plate prices dropped by an average of $12 per ton for the week.
FOB Points for each index:
SMU: Domestic Mill, East of the Rockies.
CRU: Midwest Mill, East of the Rockies.
SteelBenchmarker: Domestic Mill, East of the Mississippi.
Platts: Northern Indiana Domestic Mill.
Latest in Steel Products Prices North America