Economy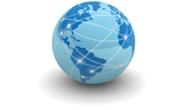 Global Manufacturing PMI Slows to 14-Month Low
Written by Sandy Williams
December 2, 2014
---
Manufacturing expansion slowed around the globe in November. The JP Morgan Global Manufacturing PMI dropped to 51.8 indicating the slowest pace of growth in 15 months. New order growth posted a 16 month low as international trade languished.
Commenting on the survey, David Hensley, Director of Global Economics Coordination at JPMorgan, said: "The global manufacturing PMI fell to a 14-month low in November, as growth of production and new orders moderated and international trade stagnated. The Output PMI is now consistent with growth of global IP close to 3.3% annualized, a solid pace but not so strong as what was implied by the survey earlier in the year."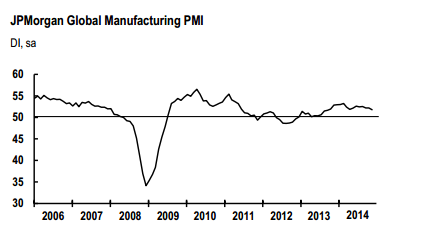 North American manufacturing growth remained strong although expanding at a slower pace. The Markit US Manufacturing PMI registered 54.8 down from 55.9 for its lowest reading in ten months. Canada saw its fastest rise in exports since September 2013 while US exports saw a renewed downturn in November. Canada registered a PMI reading of 55.3. Mexico reported a rise in output and new orders which helped November's PMI to grow one point to 54.3. Mexican export orders increased modestly for the first time since August, supporting projections for a better export numbers in fourth quarter.
In the Eurozone, Ireland Spain and the Netherlands showed solid growth with PMIs in the mid 50s range. The rest of the region contracted with Germany hitting a 17 month low at 49.6. Output and new orders both fell in November. Output and input charges dropped moderately with only Italy reporting increases in selling prices.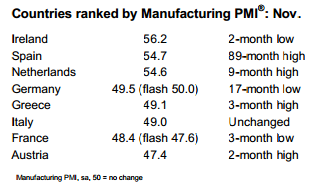 Chris Williamson, Chief Economist at Markit said: "With the final PMI coming in below the flash reading, the situation in euro area manufacturing is worse than previously thought. Not only is the performance of the sector the worst seen since mid-2013, there is a risk that renewed rot is spreading across the region from the core. The sector has more or less stagnated since August, but we are now seeing, for the first time in nearly one-and-a-half years, the three largest economies all suffering manufacturing downturns.
Manufacturing conditions were mixed in Asian countries. Japan registered manufacturing growth for the sixth consecutive month with a PMI reading of 52.0. Production levels rose from launch of new products and stronger new orders domestically and abroad. The depreciation of the yen led to a sharp rise in input costs in November that heralded higher selling prices. Philip Leake, Economist at Markit commented, "The outlook for Japanese goods producers remains uncertain amid the weakening currency, the postponement of the planned sales tax increase and the upcoming election."
In China, manufacturing lost momentum, according to HSBC, with output declining for the first time since May. New orders, however, continue to grow but at a weaker rate due to softened demand from abroad. Input costs declined which led to a reduction in output charges. Monetary and fiscal easing is expected to offset downside risks to growth, said HSBC. The HSBC China PMI registered 50.0 in November.
Manufacturing conditions in South Korea contracted for the third consecutive month. Production output dropped for the eighth consecutive month due to weaker demand from domestic and international markets. The HSBC PMI for November posted a reading of 49.0, up from 48.7 in October.
Russia experienced stronger output and new order growth in November reaching a PMI of 51.7, a 13 month high. The weak ruble, however, drove input prices up for manufacturers. "Input prices surged at a rate not yet seen in this century," said HSBC Chief Economist (Russia and CIS) Alexander Morozov. "In combination with the stronger demand and output growth in November, rising prices at manufacturers predicts the continuation of fast growth on consumer prices as well. Thus, prospects of the emergence of double-digit inflation in the coming months become more solid. So does the probability of another policy rate hike, if the Central Bank keeps setting its key policy rate at or above annual headline inflation."
In South America, conditions in Brazil deteriorated for the seventh time in the past eight months. The HSBC PMI fell to 48.7 in November from 49.1 the previous month. Output, order book volumes, and exports all declined during the month while cost inflation escalated. Higher input costs were blamed on appreciation of the US Dollar against the Brazilian real.

Latest in Economy