Economy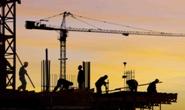 Dodge Momentum Index Rises for 2nd Month
Written by Sandy Williams
December 12, 2014
---
The Dodge Momentum index rose 0.6 percent to 125.0 in November according to Dodge Data & Analytics.  Dodge attributes the rise to greater planning activity in the commercial sector. Commercial planning rose 4 percent for the month, however, planning activity for the institutional sector fell 3.8 percent. 
"After retreating from July through September, the Momentum Index has now registered gains for two consecutive months, indicating that the nonresidential building market continues to trend upward even with the occasional setback," reported Dodge. "The Momentum Index is now 14% above the same month a year ago, and is at its highest level since early 2009."
Three commercial projects exceeding $100 million each entered into planning in November:  $232 million Bridgestone America Office Tower in Nashville TN ($232 million), a mixed-use development in Eatonville FL ($200 million) and the Turning Stone Retail & Entertainment Venue in Verona NY ($100 million).
The Momentum Index is a monthly measure of the first (or initial) report for nonresidential building projects in planning, which have been shown to lead construction spending for nonresidential buildings by a full year. 
Below is an interactive graphic of the Dodge Momentum Index History, but it can only be seen when you are logged into the website and reading the newsletter online. If you need any assistance logging in or navigating the website, contact us at info@SteelMarketUpdate.com or 800-432-3475.
{amchart id="125″ Dodge Momentum Index}
Latest in Economy