Steel Markets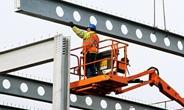 Dodge Momentum Index Indicates Nonresidential Recovery for 2015
Written by Sandy Williams
January 14, 2015
---
The Dodge Momentum Index, a monthly measure of initial reports for nonresidential building projects in planning, rose 4.0 percent from a revised 123.8 in November to 128.7 in December. The reading is the highest since February 2009 and an increase of 17 percent year over year.
"The increases seen in the Index in 2014 are a signal that the construction recovery will continue into 2015," wrote Dodge in the latest report.
Planning activity in the commercial sector rose 4.1 percent in December with nine commercial building projects exceeding $100 million that began the planning stage during the month. Project planning in the institutional sector rose 3.8 percent.
The Dodge Momentum Index, published monthly by Dodge Data & Analytics, leads construction spending by a full year and can be used an indicator for future construction. Any reading above 100, established for year 2000, indicates growth in construction planning. The Dodge Index is of particular interest to the steel community due to the higher use of steel products in nonresidential construction.
Below is an interactive graphic of the Dodge Momentum Index History, but it can only be seen when you are logged into the website and reading the newsletter online. If you need any assistance logging in or navigating the website, contact us at info@SteelMarketUpdate.com or 800-432-3475.
{amchart id="125″ Dodge Momentum Index}
Latest in Steel Markets