Economy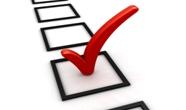 ISM Steel Buyers Unsure About Future of Economy
Written by Sandy Williams
March 4, 2015
---
Steel buyers in the February ISM Steel Buyers Survey appeared confused about what the future may hold. There was no consensus on what the trend for general economic activity will be in the next six months. Respondents were split evenly on whether activity would be up, the same or down. This contrasted with January in which 50 percent expected general economic activity to improve.
Sales and production in the next six months was anticipated to improve according to 41.7 percent of buyers, while 33 percent expected the trend to head downwards, compared to 7.1 percent in January.
Inventory levels increased in February. Of those surveyed, 66.7 percent had tons on hand to cover current shipping levels for 1-2 months, up from 42.9 percent in January and a bit higher than December at 62.5 percent. Twenty-five percent said tons would cover shipping levels for 0-1 month.
Compared to 12 months ago, tons on hand are about the same to ten percent higher.
Thirty-three percent of respondents felt inventory levels exceeded demand, up from 7.1 percent buyers in January, and will try to decrease levels in the next six months.
Order levels were considered too low by 50 percent of buyers for most efficient level of operation. When asked to forecast the trend in incoming orders for the next three months, 50 percent said they expect order levels to remain the same, but 25 percent expect a decrease, up from 7.1 percent in January.
At present production rates and with no new orders 8.3 percent said their current order book would last 1-2 months, 58.3 percent said 2-4 months, 25 percent said 4-6 months, and 8.3 percent said 6 months or more. Backlogs are expected to remain about the same in the next three months.
Current shipping levels were about the same as three months ago. Compared to 12 months ago, 50 percent of buyers said levels were higher, 25 percent said the same, and 25 percent said lower.
Selling prices were weaker in February with the 25 percent of buyers calling them very weak , 8.3 percent weak, and 58.3 percent competitive (down from 92.9 percent in January).
No one on the survey reported any workers on short-time or layoff and fewer have plans to hire new people (58.3 percent compared to 21.4 percent the previous month). Two-thirds of respondents said they have no plans to build or buy new manufacturing facilities in the next year.
Most buyers expect their dependence on off-shore sources to remain the same in the next six months. Foreign mill prices were below domestic levels said 50 percent of respondents. Compared to three months ago foreign mills were perceived as more active in seeking U.S. business.

Latest in Economy