Steel Markets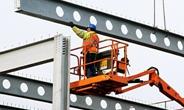 Dodge Momentum Index Slips in March
Written by Sandy Williams
April 9, 2015
---
The Dodge Momentum Index, an initial report for nonresidential building projects in planning, slid 2.1 percent to 122.3 in March. The initial reports for project planning lead construction spending for nonresidential buildings by a full year. In general, the trend has been upward for the past 12 months. The index has gained 12 percent in the first three months of 2015 as compared to the same period in 2014. Dodge Data & Analytics expects construction starts to continue to increase through early 2016.
Planning activity in the commercial sector fell 1.9 percent in March. Institutional sector project planning fell 2.4 percent.
Ten projects valued at $100 million or more began the planning stage in March—seven in commercial and three in institutional.
Below is an interactive graphic of the Dodge Momentum Index History, but it can only be seen when you are logged into the website and reading the newsletter online. If you need any assistance logging in or navigating the website, contact us at info@SteelMarketUpdate.com or 800-432-3475. You may also view this chart on our website here.
{amchart id="125″ Dodge Momentum Index}
Latest in Steel Markets