Shipping and Logistics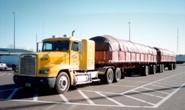 Logistics Update for End of April
Written by Sandy Williams
April 25, 2015
---
The seaborne freight market has been relatively flat in the past few weeks. The Baltic Dry Index was at 602 at the end of March but has been under 600 for most of April. As of Friday, April 24, it registered at 600. The BDI tracks dry-bulk rates based on vessel size and shipping route and is a used as a benchmark for overall trade volume.
According to the MID-SHIP Report, vessels are looking for cargo as export demand softens. Oversupply of vessels has been a problem but MID-SHIP has been hearing of numerous owners scrapping Capes and Panamax vessels at younger ages as "in this tough market the cost of passing 'special surveys' (every 5 years) is prohibitive."
The Great Lakes are down to 7.6 percent ice coverage, freeing up waters for lake freighter transit. What ice is left is concentrated in northeast Lake Superior. The 603-foot bulk carrier Mississagi ran aground in the downbound channel of the Mary's River on Wednesday. There were no injuries to the crew or apparent damage to the vessel. As of Friday, the ship was still stuck and receiving assistance from the US Coast Guard. The freighter is carrying stone from Bruce Mines, Ont.
Inland barge rates have been flat for northbound cargo loads. Contracts quoted last year for 2015 are at current spot prices. Fuel trigger prices (base rate before surcharge) has been around $2.75/gallon but last week was between $2.10 -$2.20 per gallon.
High water conditions have affected navigation on the nation's river systems causing delays and slow transit through locks. Some cargo facilities along the Ohio and Mississippi have experienced temporary closures due to safety issues with high water.
Truck capacity continues to be a problem but on a regional and seasonal basis. MID-SHIP reports a capacity crunch in the Midwest and Northeast due to weather conditions during Q1. Freight rates are expected to increase along with demand, especially for construction and seasonal freight. Last week diesel rose for the first time in six weeks, up 2.6 percent to a national average of $2.78/gallon. Fuel surcharges are expected to increase 37-39 cents per one way mile.
A trucking labor dispute may result in a work stoppage at West Coast ports next week. Contract drivers for drayage companies in Los Angeles and Long Beach ports will vote Saturday on whether to strike. Drivers are asking to be treated as employees, not independent contractors, and be able to bargain collectively over wages and conditions. Around 500 drivers so far have filed wage claims in California accusing companies of classifying them as independent contractors to avoid paying full compensation. Results of the strike vote will be announced on Monday. If a strike is approved, it will be the sixth time contract drivers have taken against action against drayage employers in two years.
The March Cass Truckload Linehaul Index rose 5.1 percent year over year to an all time high. "With demand increasing and capacity remaining extraordinarily tight, we expect that contract rate increases will continue to filter into our index at higher levels," said Cass Information Systems. "With diesel prices continuing to fall, loads are shifting (to the extent that capacity is available) from domestic intermodal back to over-the-road truck, which is challenging demand and pricing power for intermodal.
The Association of American Railroads reported 276,416 carloads and intermodal units for the week ending April 18, 2015, an increase of 1.2 percent year over year. Compared to the same week a year ago, intermodal volume was up 8.1 percent while carloads declined 4.9 percent.

Latest in Shipping and Logistics