Steel Products Prices North America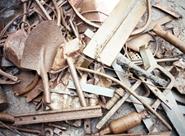 US Scrap Exports Faltered During 1st 3 Months 2015
Written by Peter Wright
May 11, 2015
---
In the twelve months of 2014, scrap exports totaled 15,308,000 tonnes, down by 17.1 percent from the same period in 2013. In the first three months of this year exports were 3,254,765 for an annual rate of 13,019,060 tonnes. The tonnages shown in Figure 1 are based on three month moving averages for 2015 and on the twelve month average for previous years. The graph shows that the monthly average declined for three consecutive years, 2012 through 2014 and the decline continued through January and February this year. March saw a trend reversal.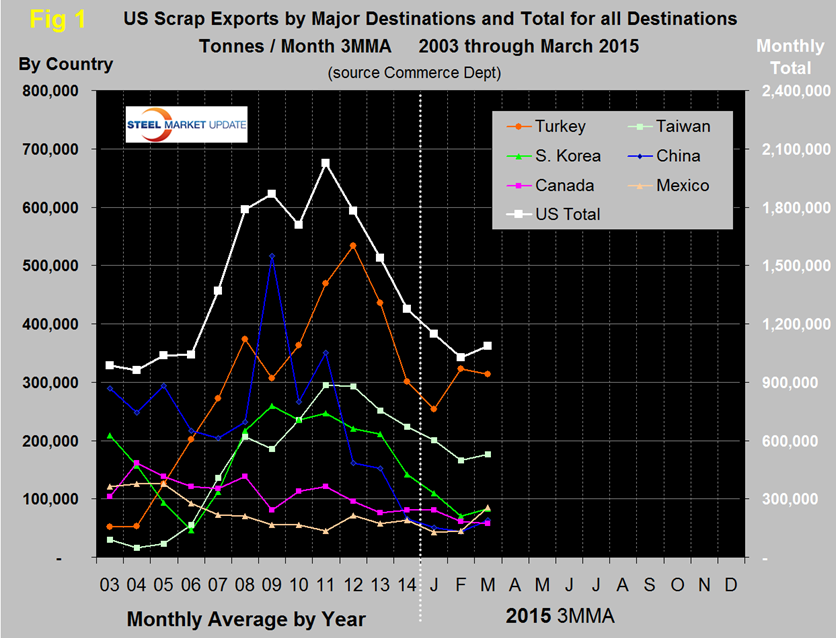 In the single month of March, Taiwan was the major destination for US scrap followed by Turkey. Turkey's buy from the US was the second lowest in 13 months and continues to be depressed by the depreciated values of the Euro and Ruble. Figure 1 is calculated on a 3MMA basis and by that reckoning Turkey maintained its position as #1. YTD exports are down by 4.9 percent year over year but the Far East is up by 15.5 percent. Exports to India have tripled y/y and to China have increased by 17.2 percent. YTD exports to Canada and Mexico are down by 17.8 percent and up by 50.0 percent respectively.
Shipments to secondary buying nations totaled 150,000 tonnes in March. Of this 89,000 tons shipped to Colombia, Peru and Ecuador. Morocco and Pakistan both took 23,000 tonnes.
Scrap export prices are reported by the AMM every Tuesday for an 80:20 mix of #1 and #2 heavy melt in US $ per tonne FOB New York and Los Angeles for bulk tonnage sales. The price on the West Coast was unchanged for five weeks through May 4th at $234 and on the East Coast unchanged for three weeks at $251.50. Chicago shredded was up by $10 in May.

Latest in Steel Products Prices North America