Economy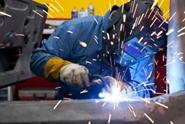 Global Manufacturing Growth Slows in June
Written by Sandy Williams
July 2, 2015
---
Global manufacturing in June slowed close to a two-year low according to the JP Morgan Global Manufacturing PMI. The Index posted at 51.0 from 51.3 in May, but manufacturing output remained in expansion (above the neutral 50 point) for the 31st consecutive month.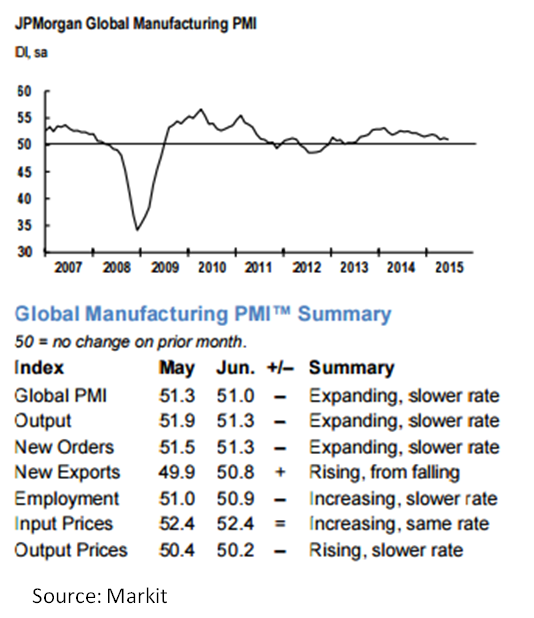 Manufacturing growth, on average, continued to grow in North America and Europe but production weakened in Asia. International trade picked up after stagnating briefly in May, with increases in the Eurozone, China, Japan, India, Mexico and eastern Europe. New exports fell in the US, the UK, Russia, Taiwan, South Korea, Turkey, Indonesia, Vietnam and Brazil.
Commenting on the survey, David Hensley, Director of Global Economics Coordination at J.P.Morgan, said: "The PMI surveys suggest the growth of manufacturing output remained subdued during the second quarter, with the rates of increase in new business and output slipping to their lowest since the first half of 2013. Activity in Asia, aside from China, is especially weak. Signs of stronger final demand growth toward midyear point to a pickup in production growth in coming months depending on the extent of any inventory drag."
Eurozone
Manufacturing growth improved in the Eurozone in June in all nations except Greece. The Markit Eurozone Manufacturing PMI was at 52.5 up from May's final of 52.2. Manufacturing performance in first quarter of 2015 was at the highest level since Q2 2014.
Production and new orders picked up the pace with work coming in from clients both domestic and abroad. Job growth increased for the tenth consecutive month and accelerated to its second highest rate of increase in four years.
Both input costs and average selling prices rose in the region. "Cost inflation remained solid in June, despite slowing from May's three-year high, reflecting recent oil price increases and rising import costs resulting from the euro's depreciation,' wrote Markit in the June report.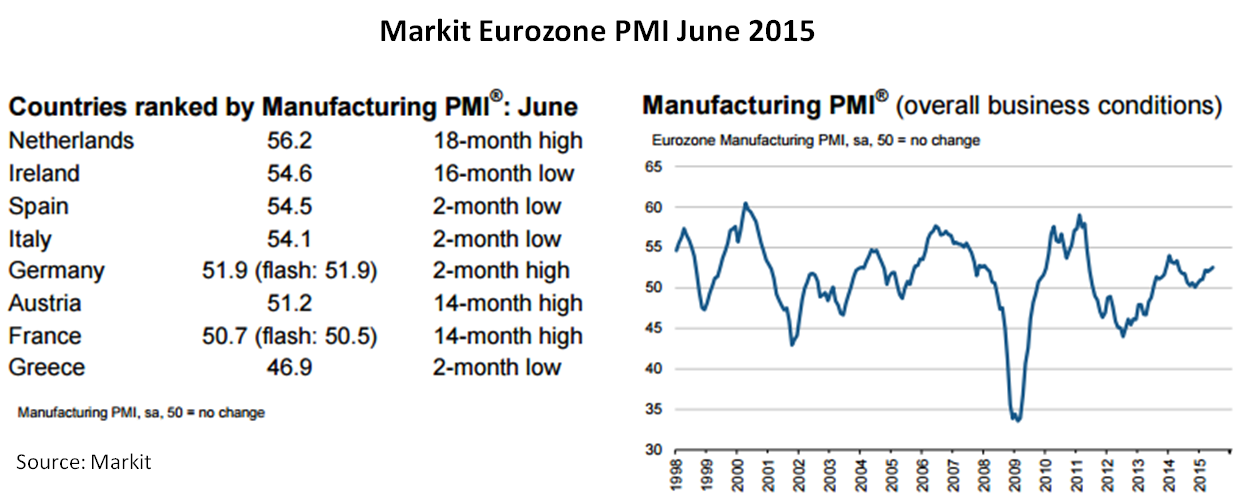 Greece struggled in June with a PMI reading of 46.9, with new orders, production, exports and employment all dropping sharply as the country faced default.
Although the Eurozone returned a solid PMI reading for June, the pace of growth was disappointing to Chris Williamson, Chief Economist at Markit:
"The pace of growth is especially disappointing given how accommodative financial conditions are at the moment, with record low interest rates and the ECB's quantitative easing now well under way. However, this is perhaps not surprising given the heightened degree of uncertainty surrounding the Greek debt talks that was seen during the month, suggesting a resolution of the crisis will trigger stronger growth."
China
The Manufacturing PMI in China posted at 49.4 in June, the fourth month of contraction but a slight improvement from May. Manufacturers cut production and depleted stocks to fill new and current orders. Employment fell for the twentieth month in a row as manufacturers cut costs.
Annabel Fiddes, Economist at Markit said: "The final reading of the HSBC China Manufacturing PMI pointed to a further decline in the health of the manufacturing sector in June. This was predominantly driven by the sharpest rate of job shedding across the sector since early-2009, while output also fell slightly on the month. On the upside, there were some signs of improvement in the shape of renewed increases in total new orders and new export business, suggesting that client demand both at home and abroad is reviving. However, it is likely that more stimulus measures will be required to ensure that the sector can regain."
Russia
Manufacturing conditions deteriorated slightly in June, with output orders and employment levels all dropping. Prices rose at a historically muted rate. Working capital shortages led to reduction in existing inventories. Weak domestic demand contributed to an overall drop in new orders for the fourth month in a row. Weak underlying global demand caused exports to continue to decline but at the slowest pace so far this year. The PMI for June stood at 48.7, up 1.1 point from May but in still in contraction for the seventh successive month.
Paul Smith, Senior Economist at Markit, commented: "Operating conditions in Russia's manufacturing sector continued to deteriorate during June, although there were some positive signs of revival in the consumer goods sector where concurrent growth of output and new orders was registered. Still underwhelming demand is generally being reported across the manufacturing industry and this unfortunately is leading to job losses. Moreover, a shortage of working capital means that firms have to utilise inventories wherever possible rather than purchase inputs, the net result being constraints being placed on plant production."
South Korea
The PMI in South Korea posted at 46.1, down from 47.8 in May and the weakest reading since September 2012. Production and new orders fell sharply during the month and employment levels fell accordingly. A decline in input prices was not enough to offset competitive pressures that pushed selling prices down at a faster rate in June. New export orders continued to decline as international demand weakened. A reduction in trade volumes with the U.S. and Japan was noted by survey respondents.
Japan
Production growth slowed as new orders faltered in June. The PMI dropped 0.8 points to 50.1 in June, hovering just above contraction. Export orders picked up due a favorable exchange rate along with greater sales volumes to China and Europe. Purchasing costs rose and was accompanied by higher selling prices as companies passed higher costs on to clients. Employment continued to grow modestly during the month.
Mexico
Closer to home, Mexico manufacturing growth continued to expand but at the weakest pace since July 2014. The PMI posted at 42.0 in June down from 53.3 in May. Tim Moore, senior economist at Markit remarked on the "loss of momentum since the start of the year despite a boost from exchange rate depreciation and improving U.S. economic conditions." Survey respondents were optimistic, however, about the year ahead and continue to plan capital investments and increase staffing.
Canada
Canada showed modest recovery in manufacturing conditions in June. The RBC PMI rose to 51.3, after five months in contraction. Production levels expanded at the fastest pace since December 2014. New orders volumes picked up slightly in June bolstered by the sharpest rise in export orders in seven months and a more competitive Canadian dollar. Input buying increased as demand reduced pre-production inventories. Input costs rose as prices increased for imported raw materials. Overall, cost inflation was its slowest rate since January.

Latest in Economy