Economy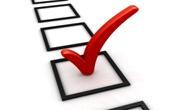 ISM Steel Buyers Survey, July 2015
Written by Sandy Williams
August 11, 2015
---
The Institute for Supply Management's Steel Buyers' Forum conducts a monthly survey regarding current steel supplies/products and future projections. Please note that the July 2015 survey appears sparse with only 11 respondents.
When asked at current shipping levels, tons on hand would cover how many months, 27.3 percent said 0-1 month compared to 30.8 percent in June, 45.5 percent said 1-2 months vs. 53.8, and 27.3 percent said 2-3 months vs. 15.4 percent. Most respondents, 72.7 percent, were satisfied with current inventory levels compared to demand and the rest thought inventory was too high. Fifty-four percent said they will maintain current inventory levels during the next six months and 45.5 percent said they plan decreases.
Current order levels were good for most respondents and backlogs were expected to remain the same for the next three months. In June 53.8 percent of buyers expected new orders to increase during the next three months but only 18.2 percent were optimistic in July. Order levels were about right for most efficient level of operation for 63.6 percent of those surveyed in July, a better percentage than the previous two surveys. Backlogs are expected to remain at the same level for the next three months.
Incoming orders are expected to remain the same for the next three months, after expectations of increases in April through June. At present production rates and with no new orders, the current book order would last 1-2 months for 54.5 percent of buyers, 4-6 months for 27.3 percent and more than six months for 18.2 percent.
Respondents in the last two surveys have said shipping levels were higher than the previous 12 months ago and the same or higher for the previous three months. Selling prices weakened in the July survey, with 36.4 percent calling them weak compared to 7.7 percent in June.
Nine percent of respondents said they have workforce on short time or layoff, up from 7.7 percent in June. Most companies in the survey expect to hire new people, consistent with June's response.
General activity for the next six months is expected to be better said 36.4 percent and 63.6 percent expect it to remain the same. When asked to forecast the trend of sales and production for the next six months, 63.6 percent said it would remain the same, up from 46.2 percent in June. No one has forecast a drop in the trend during the last two surveys.
Most buyers do not plan on changing their dependence on off-shore sources in the next six months. Foreign mill prices were seen as below domestic prices by 45.5 percent of buyers. Compared to three months ago, 33 percent of buyers said foreign mills were less interested in seeking U.S. business (up from 18.2 percent in June).

Latest in Economy