Economy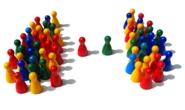 Labor Negotiations Update for USW & UAW
Written by Sandy Williams
September 8, 2015
---
Labor Day came and went without labor negotiations coming to a head for US Steel or ArcelorMittal. Although the parties were committed to staying at the bargaining table over the weekend, no agreement was made and, fortunately, no lockouts or strikes either.
Allegheny Technology (ATI) is entering its fourth week of lockout for its 2,200 steelworkers. The USW and ATI are scheduled to meet again on September 11 with the assistance of the Federal Mediation and Conciliation Service.
The USW will head to the bargaining table with Cliffs Natural Resources this week. The Bargaining Committee will hold union-only meetings on September 9 in Pittsburgh with formal talks with Cliffs beginning on the 10th or 11th.
United Auto Worker negotiations are ongoing with progress being made at all three Detroit automakers, according to UAW President Dennis Williams. The current four-year labor agreement with Ford, General Motors and Fiat Chrysler ends on Sept. 14. In a Labor Day speech in Detroit, Williams said he expects a tentative deal with at least one company before the contract expires and will select a target company by the Sept 14. The negotiations with the target (or lead) company will set the pattern for wages and benefits for all three companies.
Williams said he is in no rush to name the lead company and told the Detroit Free Press, "They are all moving to a point and when we get there, when we get to certain point, we will decide." "Right now," he said, "both sides are talking (at all three companies)—we are not at each other's throats."
The UAW is seeking pay increases for union members who have not had a raise in 10 years and elimination of the two-tier system of pay. Auto industry sales have been at record levels in the past year and union members hope to gain a share of the increased profits.
"It's our time. It's our moment. It is us in solidarity," said Williams on Monday.

Latest in Economy