Steel Mills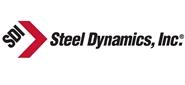 SDI Expanding with Purchase of Steel Decking Facilities
Written by Sandy Williams
September 15, 2015
---
Steel Dynamics announced expansion of its product offerings through the purchase of steel decking facilities from Consolidated Systems, Inc. The facilities and net working capital of approximately $30 million was purchased by SDI for $45 million and will become part of New Millennium Building Systems, LLC, a wholly owned fabrications operations subsidiary.
Mark Millett, President and Chief Executive Officer of Steel Dynamics, said, "Based on our past strategic geographic growth in our fabrication platform, combined with the steadily improving construction sector, our fabrication operations achieved record profitability in the second quarter 2015 and have already surpassed 2014 record setting annual profits. This purchase will further support the success of this platform and create shareholder value. The transaction is a further step in our growth strategy, and will enhance New Millennium's position as a leading North American provider of steel joist and decking, while also providing an accelerated avenue to new steel deck product offerings and additional cold roll and galvanized flat roll steel pull-through volume for our Columbus Flat Roll Division."
The purchase includes three decking facilities located in Memphis, Tenn., Phoenix, Ariz., and Terrell, Texas. The assets, which produce both standard and premium specialty deck profiles, represent over 8 percent of 2014 domestic steel decking market share. Specialty deck production will be concentrated in Memphis, where a paint line is already in place. Integration with NMBS will begin immediately and will expand geographic reach into the southwestern and western markets.
Consolidated Systems, headquartered in Columbia, SC,  will continue operating its Consolidated Metals Product Group which provides coil coating, tension leveling, slitting, blanking and perforating capabilities at one location.
Latest in Steel Mills