Steel Products Prices North America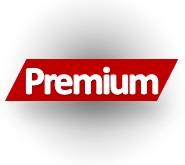 Global Steel Production and Capacity Utilization in December 2015
Written by Peter Wright
January 23, 2016
---
The following article is normally produced for our Premium level members, but we wanted to share it with our Executive level members as we think it is important and interesting as the world is flooded with excess steel capacity. If you find this article interesting you may be interested in upgrading your membership from Executive to Premium. We can answer any questions that you might have at info@SteelMarketUpdate.com.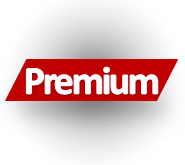 Global steel production in 12 months through December totaled 1.596 billion tonnes with a capacity of 2.3 billion tonnes. Production in the month of December was 126,724,000 tonnes, down from 126,814,000 in November, however there was one more day in December and on a tons/day basis production was down by 3.3 percent at 4.088 million tonnes month/month and down from 4.518 in April which was the highest month of the year. If we look at the three month moving average and plot it over time we see that there has been a significant decline in the second half of the year since and including 2010 which usually extends into February of the next year, after which production kicks up rapidly (Figure 1).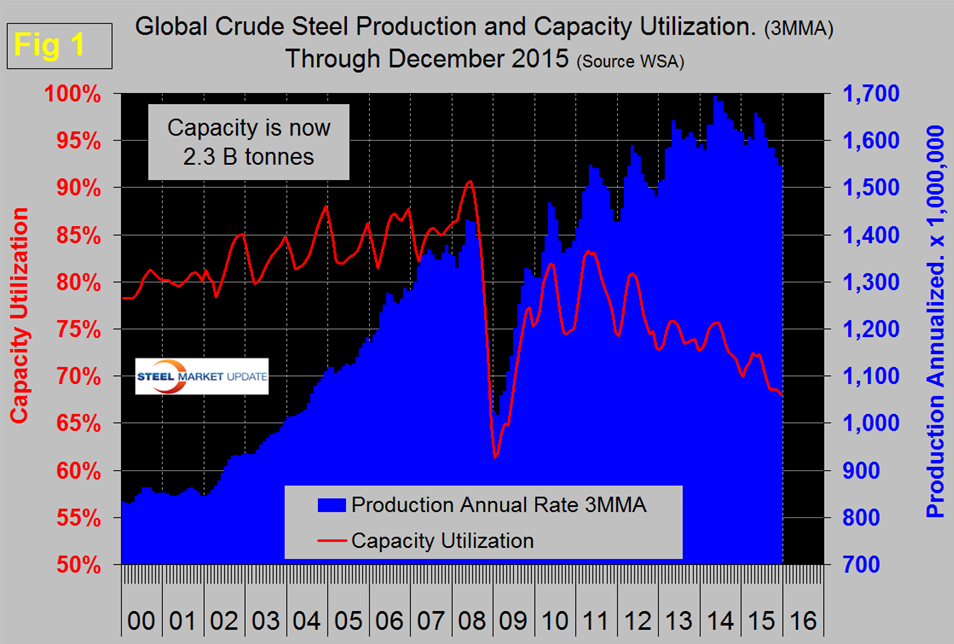 In 2015 the uptick was delayed until April and clearly the high point of 2014 has not been reached this year. Figure 2 shows the average monthly production by month in the 8 years since 2008.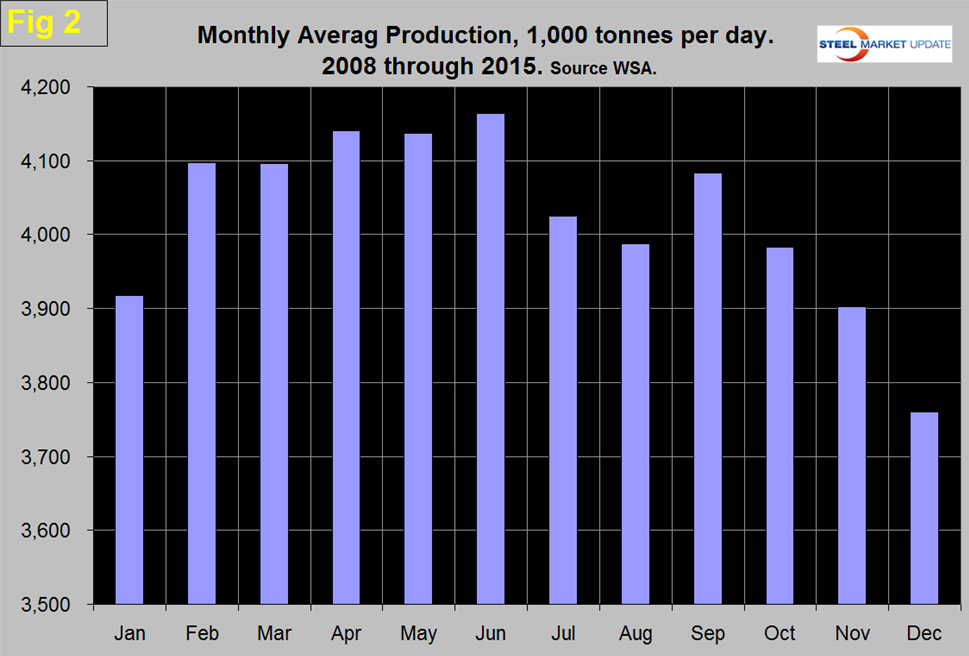 On average December has been 3.64 percent lower than November therefore in that sense this year was slightly better than normal however on a 3MMA basis, production through December was the lowest since February 2013. As production has increased each year since the recession, capacity utilization has decreased, the gap is widening. Capacity utilization in three months through December was 68.1 percent, down from 72.2 percent in three months through April. China accounted for 50.8 percent of global production in December. Asia as a whole, including India, accounted for 69.7 percent.
In November the China Metallurgical Industry Planning & Research Institute (MPI) forecasted that China's steel consumption will decline 4.8 percent in 2015 to 668 million metric tons, while next year consumption will continue falling but at the slower rate of 3 percent to 648 million mt. On January 7th the New York Times in an article about China's economy had this to say; In the face of Monday's tumult, Prime Minister Li Keqiang visited one of the country's largest and most troubled state-owned steel companies, Taiyuan Iron and Steel Group. There, Mr. Li reassured workers, urging them to "revive your strength and power." The strategy, though, risks deeper problems down the road. By not shutting down struggling companies, China is putting off a much-needed shakeout. The country is also piling on debt to keep such businesses on life support. That makes it difficult to discern the underlying health of the economy, and runs counter to Mr. Xi's tough promise that China will clean up its corporate mess. Mr. Xi also cannot easily ask the central bank to print huge sums of money to bail out the stock market and struggling companies. Doing so now would risk flooding the economy with cash, causing a further decline in China's currency against the dollar.
Table 1 shows global production broken down into regions and also the production of the top ten nations in the single month of December and their share of the global total.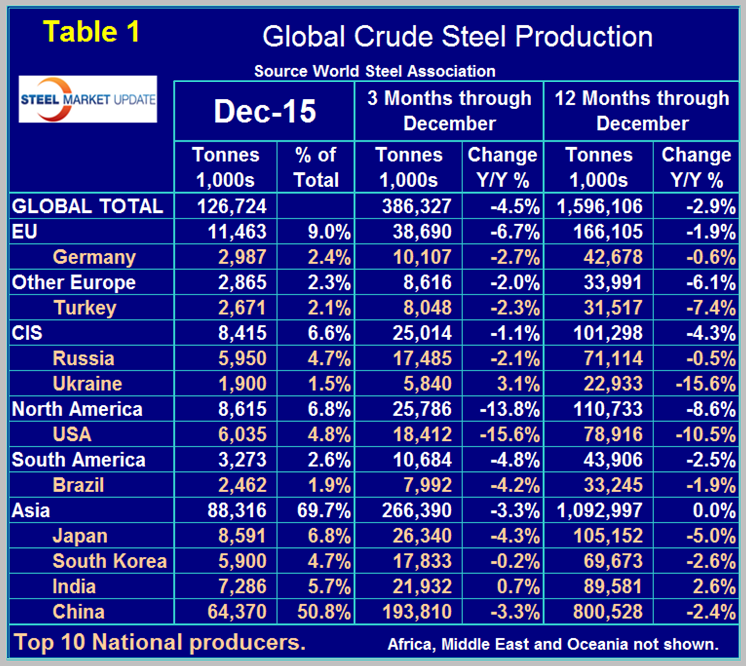 It also shows the latest three months and twelve months production through December with year over year growth rates for each. Regions are shown in white font and individual nations in beige. If the three month growth rate exceeds the twelve month we interpret this to be a sign of positive momentum and accelerating growth. The situation this year is the reverse with negative momentum. The world as a whole currently has a negative growth of 4.5 percent in 3 months and negative 2.9 percent in 12 months. All regions had negative growth in the latest data. On a single country basis, of the top ten producers only Ukraine and India had positive year over year growth in the 3 months through December. In the December data China was down by 3.3 percent in three months year over year, North America was down by 13.8 percent in total with the US down by 15.6 percent, Canada down by 7.0 percent and Mexico by 9.8 percent. The European Union was down by 6.7 percent and other Europe was down by 2.0 percent led by Turkey down by 2.3 percent.
Figure 3 shows the 3MMA of the monthly year over year growth of global steel production which was negative in March for the first time since September 2009.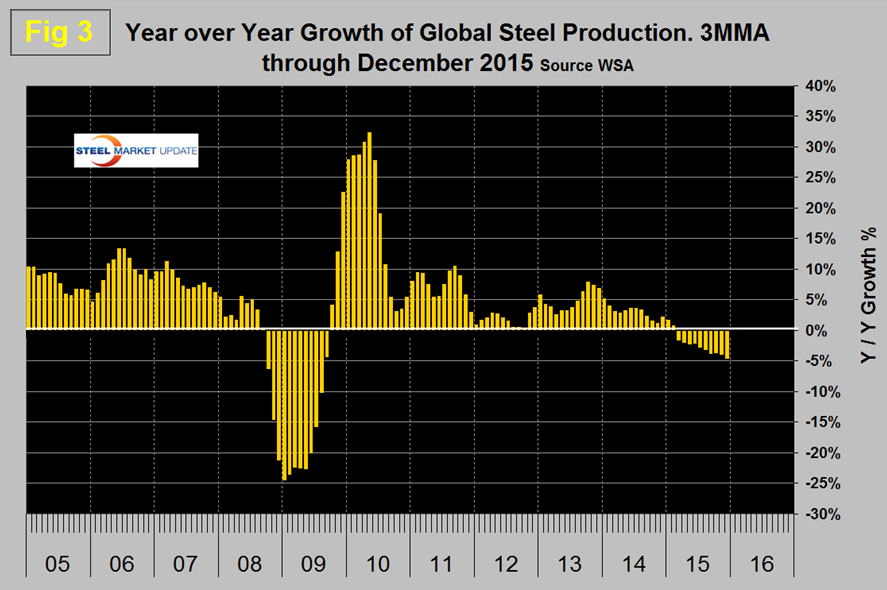 Figure 4 shows global annual production since 1930 and the four distinct growth phases.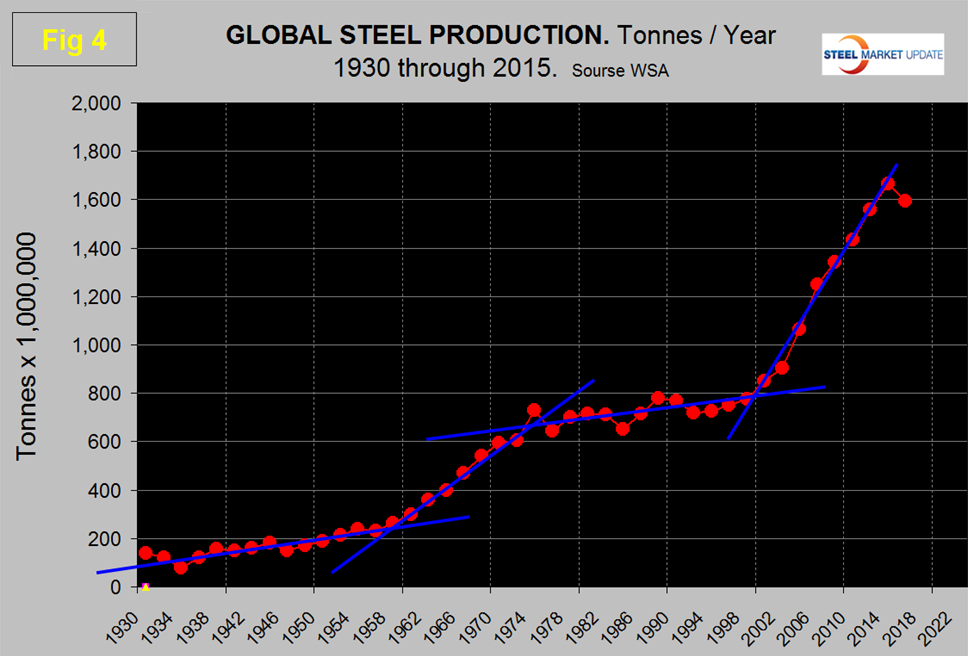 The two low growth phases lasted about 25 years each and the two high growth phases, one of which we have just experienced have lasted about 15 years each. 2015 was a rare year in which production actually decreased.
In October the World Steel Association publishing their latest Short Range Outlook (SRO) for apparent steel consumption in 2015 and 2016. We will leave these in our monthly updates until the April 2016 revision is released. (Note this forecast is steel consumption, not crude steel production which is the main thrust of what you are reading now.) The first table of the SRO is by region and the second for the top 10 consuming nations.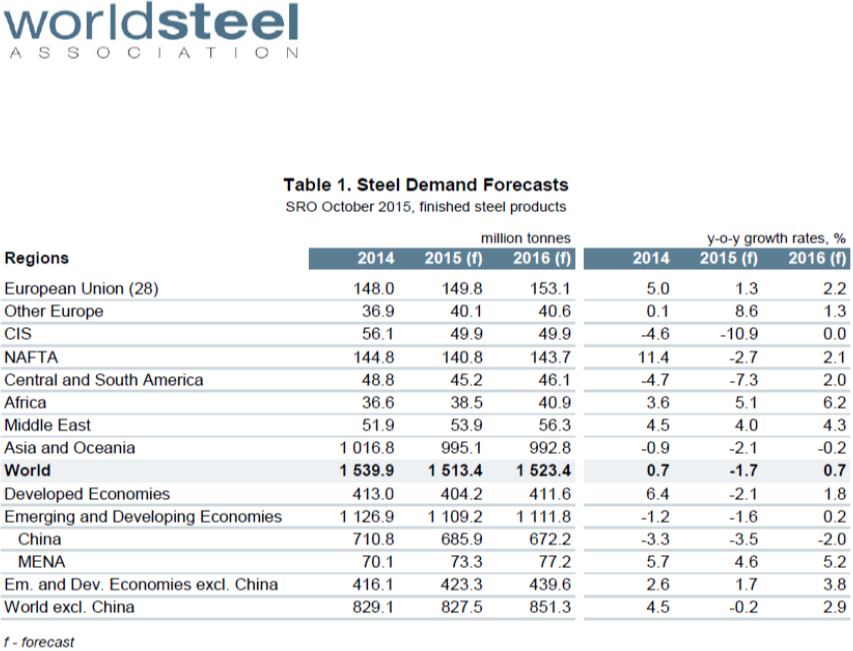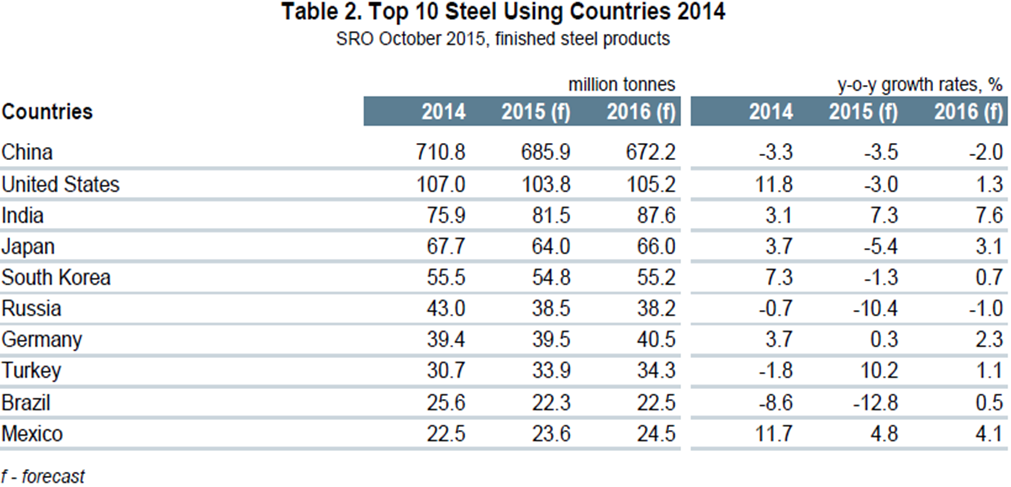 At the global level consumption must equal production in the long term with inventory adjustments interfering with that relationship in the short term. WSA forecast a 1.7 percent contraction in demand in 2015 followed by a 0.7 percent expansion this year. Based on this analysis by the WSA, NAFTA will decline by 2.7 percent this year and grow by 2.1 percent next year with the US contracting by 3.0 percent and growing by 1.3 percent on the same basis.
SMU Comment: Changes in production and consumption must be proportional in the long term and we think that the WSA forecast looks increasingly optimistic. They have demand declining at the global level by 1.7 percent in 2015 and increasing by 0.7 percent in 2016. By our reckoning the decline is accelerating therefore we don't believe 2016 will enjoy positive growth. China is exporting far more than the US produces, a situation that is not likely to change in the short term as they play the game of shipping to destinations of least resistance. The relatively low price of ore compared to scrap is helping the competitive position of the Chinese integrated producers who are flooding the world with semi-finished billets. These exports are being disguised by classification as square bar which makes it difficult to comprehend the true nature of the global scrap and semis market.

Latest in Steel Products Prices North America