Steel Products Prices North America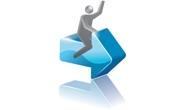 Manufacturers Reporting Distributors Supporting Higher Spot Pricing
Written by John Packard
March 8, 2016
---
One of the key items Steel Market Update reports on twice a month to our Premium level members is the manufacturing view of service center spot pricing and the distributors' view of how their companies are handling spot pricing into the end users. From this report we are able to determine if domestic mill price increases are sticking and if the distributors are supporting higher/lower spot prices in the marketplace.
Manufacturing companies have been reporting service centers are either maintaining or raising spot prices since early in the New Year.
The pressure has been muted over the past few weeks compared to what we were seeing in mid-January through mid-February. However, the graph below represents data either prior to the price increase announcements of this past week or within a day or two of the announcements.
If the steel mills follow through and collect higher prices this week due to the new higher prices announced last week of +$30 per ton ($1.50/cwt), we should see the green bars increase when we start our mid-March analysis early next week.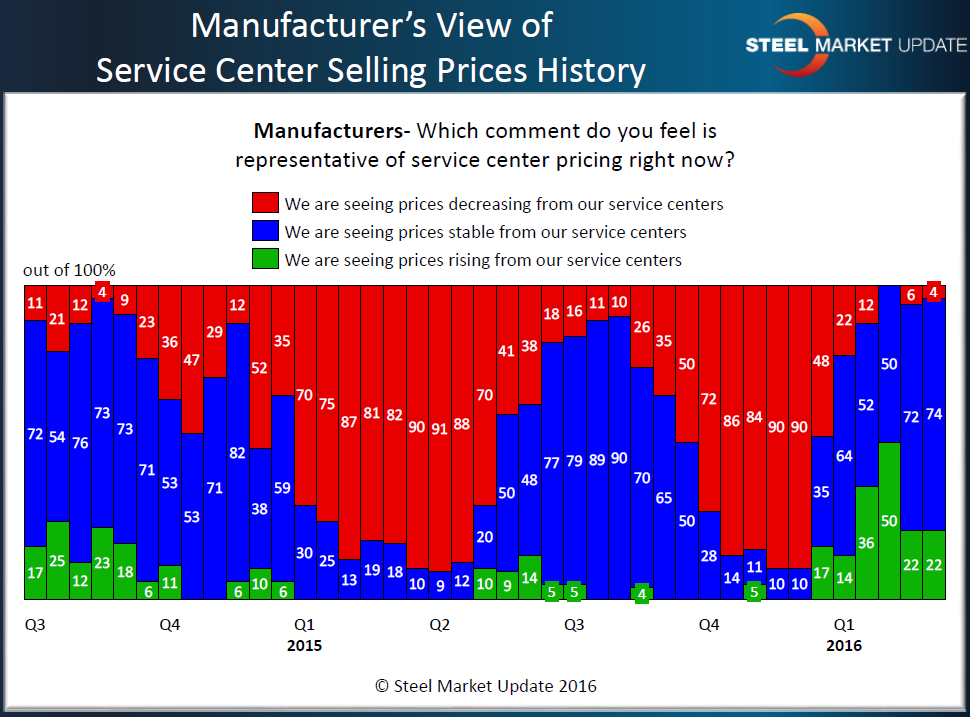 What are important are the red bars on our graphs which indicate that spot prices out of the service centers are declining (i.e. inventories are being reduced to improve cash flows, balance inventory levels or make way for new lower priced inventories). Our survey respondents, both manufacturing and distributors, are reporting very little discounting out of the service centers which is supportive of stable to higher pricing.
Service centers are reporting similar results as seen in the graphic below. Almost half of the service centers canvassed this past week were reporting their company as not offering lower pricing on flat rolled products. We have placed the AK Steel price announcements at the top of the graph in order to give our readers a visual of what has been announced and how it relates to service center spot pricing.
We anticipate domestic flat rolled steel prices will be able to move higher as long as the red bars remain at their current low levels.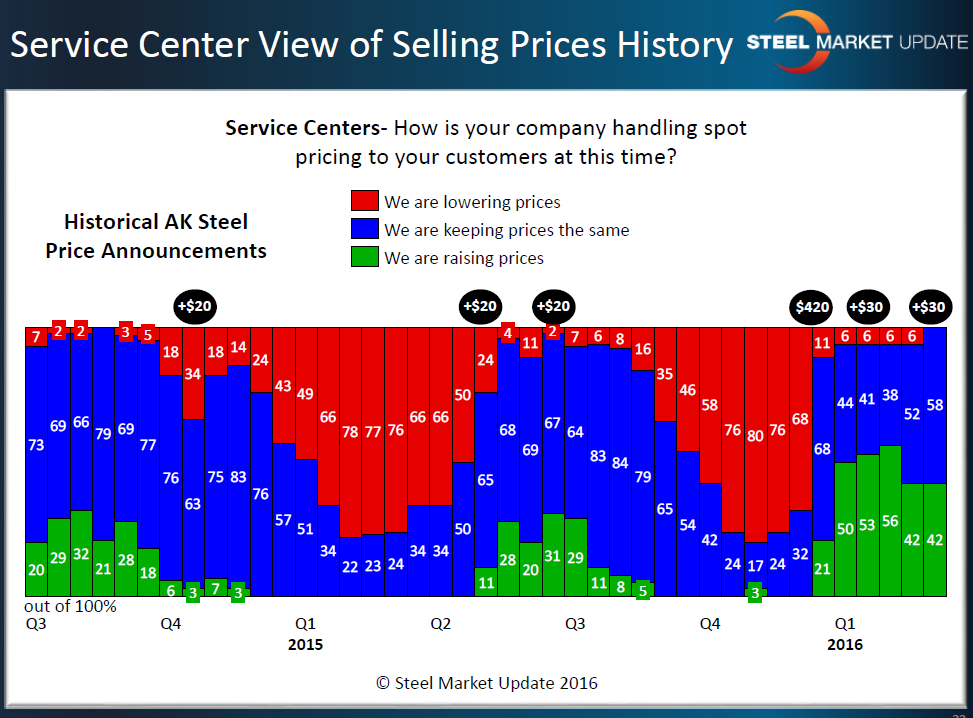 Latest in Steel Products Prices North America