Scrap Prices North America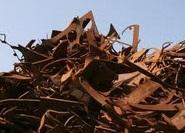 Update on Ferrous Scrap Negotiations
Written by John Packard
May 5, 2016
---
Scrap negotiations are taking some time to complete as the steel mills and dealers haggle over what is an appropriate increase above what the mills paid during the month of April. Our sources are advising us that there have been a few transactions in the Midwest and in the Detroit markets. So far the Detroit market is up $15 per gross ton on cut grades, $20 per gross ton on shredded scrap and $30 per gross ton on prime grades such as bundles and busheling.
In the Chicago area we heard from two sources who advised that a couple of deals were done with shredded being sold up $15 and again at up $20 per gross ton. Prime grades are up $30 per gross ton.
We heard that the buys so far have been "weak" with less than 50 percent of normal needs.
The numbers so far are in line with what was expected in the Chicago/Detroit markets. We will have more on the settlement numbers in Sunday evening's edition of SMU.
Latest in Scrap Prices North America