Steel Mills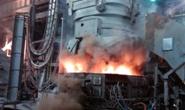 North Star BlueScope to Lose 38,000 Tons of Production
Written by Sandy Williams
May 10, 2016
---
North Star BlueScope experienced an explosion and fire at their Delta, Ohio site on Saturday, May 7. A refractory failure allowed a washout of molten steel from the South EAF shell resulting in an explosion that was heard and felt in surrounding neighborhoods.
Emergency responders responded quickly on Saturday to control the fire from the explosion. All employees and contractors were reported as safe.
An update from the company on Monday, May 9, said the damage is still being assessed.
At present, North Star expects lost production of approximately 35,000 metric tonnes [38,580 net tons] and total financial pre-tax cost, including capital repairs, to be in the order of $5 million.
North Star BlueScope has two electric arc furnaces. The plant will continue to produce steel by operating the second EAF until repairs can be completed on the damaged furnace.
SMU spoke with a North Star Bluescope representative on Monday and we were told that the mill would not know the full extent of the damage until the steel was removed from the furnace. The expectation is that the mill would lose about 35-38,000 net tons (corporate BlueScope reported the loss of tonnage to be 35,000 metric tons). NS BlueScope has two electric arc furnaces (EAF) which combined are able to produce 6-7,000 tons of steel per day. Assuming the furnaces are equal, that means that as of Monday the expectation is for the furnace to be down about 10-12 days. However, we were told that was an estimate and could change once the steel is removed from the vessel. The corporate press release on the accident said, "The Company continues to assess operational implications and will provide an update should circumstances vary from the preliminary estimate."
At the time of the accident the mill was booked to 100 percent of capacity. So, there is no way to make up the lost tonnage.
SMU has been in contact with North Star BlueScope customers throughout the day today. We were told by one large service center that the mill was requesting they reduce their orders by 20 percent. Another service center located further away from the mill reported the mill told them that only the mill was protecting their contract customer orders first and the mill would be out of the spot market for as long as six weeks. We requested more information from the mill but they declined our request saying the discussions were between the mill and their customers.

Latest in Steel Mills