Economy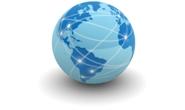 Global Manufacturing Stagnant in May
Written by Sandy Williams
June 1, 2016
---
Global manufacturing appeared stagnant in May, according to the JP Morgan Global Manufacturing PMI. The composite index was at the no change mark of 50.0, nearly the same as April's reading of 50.1.
Production and new orders hovered just above the 50 mark while new export orders fell at one of the fastest rates in the past three years.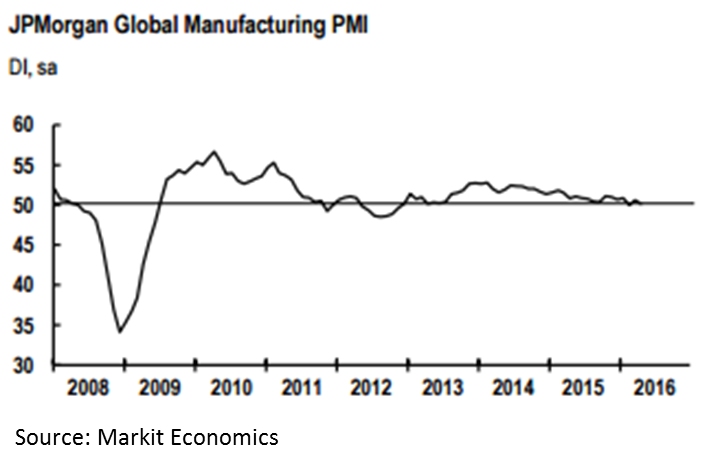 Employment levels were also muted in the labor market at an index reading of 49.4, down from 49.7.
Global pricing for manufacturing input and sales rose faster in May. The rate of input cost inflation was at an 11 month peak partially due to firming oil prices. The input prices index rose to 52.1 from 51.6 and output prices rose to 0.1 point to 50.4.
Said David Hensley, Director of Global Economic Coordination at JP Morgan, "The May PMI data suggest that the global manufacturing sector remains in a low gear. Indices for output, new orders and the headline PMI were all at, or barely above, the stagnation mark. The move up in the finished goods inventory index suggests manufacturers are still working to realign stocks with demand." 
The Markit Eurozone Manufacturing PMI fell to a three month low in May to register 51.5 from 51.7 in April. Domestic and export orders continue to grow at a lackluster rates, said Markit.
Chris Williamson, Chief Economist at Markit said manufacturing was near stagnation in May, cooling after a brisk first quarter.
"New orders grew at the slowest rate for over a year as demand showed signs of waning both within the euro area and further afield. Not surprisingly, companies remain reluctant to build capacity and take on extra workers, lacking signs of any imminent upturn in demand. "France and Greece remain the key areas of concern, both seeing manufacturing contracting again in May. Worryingly, however, growth has also slowed sharply in previously fast-growing countries such as Spain, Italy and Ireland, meaning there are now no signs of robust manufacturing growth evident across the region.
"The overall slowing of manufacturing activity confounds expectations that recoveries will accelerate on the back of the ECB stimulus announced earlier in the year. Hopes remain pinned on forthcoming corporate bond purchases and new tranches of ultra-cheap bank loans from the ECB providing an extra boost in coming months."
The Caixin China General Manufacturing PMI was at 49.2 in May, down from 49.4 in April. Domestic orders dropped for the first time in three months as did new export orders. As a result of weaker demand, Chinese manufacturers cut production for the second month in a row.
"Overall, China's economy has not been able to sustain the recovery it had in the first quarter and is in the process of bottoming out," commented Dr. Zhengsheng Zhong, Director of Macroeconomic Analysis at CEBM Group. "The government still needs to make full use of proactive fiscal policy measures accompanied by a prudent monetary policy to prevent the economy from slowing further."
Russia's manufacturing sector contracted in May, falling below the neutral 50 PMI to 49.6. New orders, including export orders, declined for the third month in a row but only slightly."
Samuel Agass, Economist at Markit, called the May survey results disappointing but said indicators suggest business conditions are moving closer to stabilization.
Said Agass, "Although falling demand for Russian goods remains a worry for policymakers, output returning to expansion territory and workforce numbers increasing, albeit in each case only marginally, highlights that the worst may have passed. Also, with input buying rising at the fastest pace for 18 months, companies look set to boost production in coming months if new orders pick up."
Our North American neighbors did better in May. Mexico's PMI rose to 53.6 from 52.4 for its highest level 13 months. Production expanded as new orders increased at home and from abroad. Demand for Mexican goods appears solid and it is likely to remain strong in the coming months, said Markit.
Canadian manufacturers had a modest upturn in business according to Markit. The RBC Canadian Manufacturing PMI stood at 52.1, down marginally from 52.2 in April. Production volumes had their sharpest increase since 2015. New orders growth slowed in May due primarily to a slight reduction in new export orders.
The Markit U.S. Manufacturing PMI fell just slightly from 50.8 in April to 50.7 in May for its weakest performance since September 2009. Momentum appeared to slow in the U.S. with production volumes dropping at its fastest rate since 2009. Falling export demand and uncertainty about the coming presidential election has put employment levels under pressure said Markit.
Commenting on the final PMI data, Chris Williamson said, "For those looking for a rebound in the economy after the lackluster start to the new year, the deteriorating trend in manufacturing is not going to provide any comfort."

Latest in Economy