Economy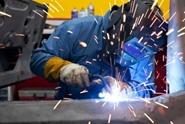 Federal Reserve Manufacturing Reports Mixed in June
Written by Sandy Williams
June 30, 2016
---
Manufacturing Indexes were reported from four Federal Reserve districts in the past two weeks with mixed results. Manufacturing surveys were released from Kansas City, Philadelphia, Richmond and Dallas.
The survey results from Kansas City were the most positive of the four, returning to a positive reading for its composite index for the first time in eighteen months. The regional factory activity index posted at 2, up from negative readings in April and May. Stabilizing energy prices gave a boost to manufacturing activity in June. The production index surged from -11 to 12, along with considerable increases for shipments, new orders, and order backlogs. The future composite index gained 3 points to post at 7 for the month and individual readings were generally solid. Capital spending and new export orders climbed higher while the future production index was unchanged. Future shipments and new order indexes fell slightly and future inventory indexes dropped further into negative territory.
Philadelphia returned to a positive reading of 4.7 on its current activity index after two months of negative readings. One fourth of firms reported increases in activity in June and 52 percent of firms said activity was steady. New orders and shipments were still negative, slipping 1 and 2 points, respectively. Unfilled orders, delivery times, and inventories indexes all remained negative. Future indicators decreased for the second consecutive month but manufacturers still expect growth through the end of 2016. Looking ahead six months, 46 percent are expecting activity to increase while 16 percent anticipate a decline.
Richmond manufacturing activity showed softening in June. New orders and shipments declined and backlogs continued to decrease. Raw material prices rose slower in June while finished prices increased faster. Survey responses regarding future business conditions indicate Richmond manufacturers are expecting only mild growth in shipments and new orders in the next six months. Compared to future perceptions in May, backlogs and capacity utilization are expected to level off and lead times to lengthen slightly.
Texas manufacturing continued to decline in June but at a slower pace. The general business activity index has been negative since January 2015 and was at -18.3 in June. The new orders index held steady at -14.2, while the growth rate of orders index fell four points to -18.6. The capacity utilization and shipments indexes remained negative for a second month but edged up, coming in at -9.3 and -8.6, respectively. The outlook for future business improved with the index for future general business activity rebounding to 2.6 from a negative reading in May. Most of the indicators for future manufacturing activity registered increases in June.
Employment levels were in contraction in Dallas and Philadelphia and softening in Richmond. Kansas City manufacturers reported rising employment, up from -13 to -4. Wages were reported as increasing in Dallas and Richmond.
Prices for raw materials rose in Dallas, Richmond and Philadelphia in June and were unchanged in Kansas City. Prices received for finished goods were down in Philadelphia and Dallas but higher in Kansas and Richmond.

Latest in Economy