Steel Markets
US Auto Sales Slower in August
Written by Sandy Williams
September 8, 2016
---
U.S. automotive sales took a 4.1 percent dip in August as demand softened after record breaking sales in 2015. Sales totaled 1.506 million vehicles last month, according to final tally by Wards Auto.
The seasonally adjusted annual rate fell short of expectations at 16.9 million, well below July's SAAR of 17.8 million and the August 2015 rate of 17.7 million. Sales have peaked according to several auto manufacturers and economists. Autodata Corp says sales are still on pace, however, to exceed the 2015 record of 17.5 million.
SUVs and light duty trucks continue to dominate market sales. According to Wall Street Journal data, car sales slipped 8.4 percent year over year in August while trucks grew 2.5 percent. SUVs and crossovers sales increased 3.8 percent from August last year
The top three sellers in August were all pick-ups, the Ford-F series, Chevrolet Silverado and Dodge Ram. Sales for all three, however, were down 6.1, 4.7 and 11.3, respectively, year over year.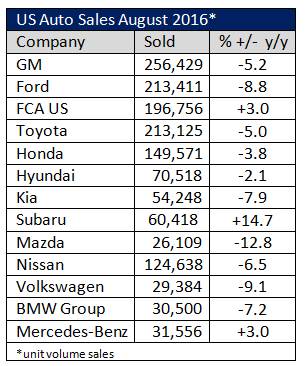 Latest in Steel Markets