Steel Products Prices North America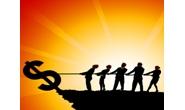 When Will Flat Rolled Steel Prices Bounce Back?
Written by John Packard
September 15, 2016
---
Over the past few weeks the pace of the flat rolled spot price decline has quickened and many buyers believe benchmark hot rolled coil prices are poised to drop below $500 per ton for the first time since mid-April 2015. Or, are they?
At this moment, SMU has our HRC index average at $525 per ton. Platts is at $550 per ton and the other brand is slightly higher than Platts. SMU has seen a major move in prices over the past week as our index dropped $35 per ton. The low end of our range dropped to $500 per ton. According to SMU sources most of the offers for spot HRC in the marketplace are $510 to $540 per ton as the mills continue to resist breaking through the $500 per ton psychological price barrier.
The battle is now on between those who want the mills to toe the line (not break through the $500 level) and the internal struggle at the mills to keep their order books full through the end of this calendar year.
By the way, for those interested, the average hot rolled coil spot price from January 1, 2010 to January 1, 2016 was $613 per ton.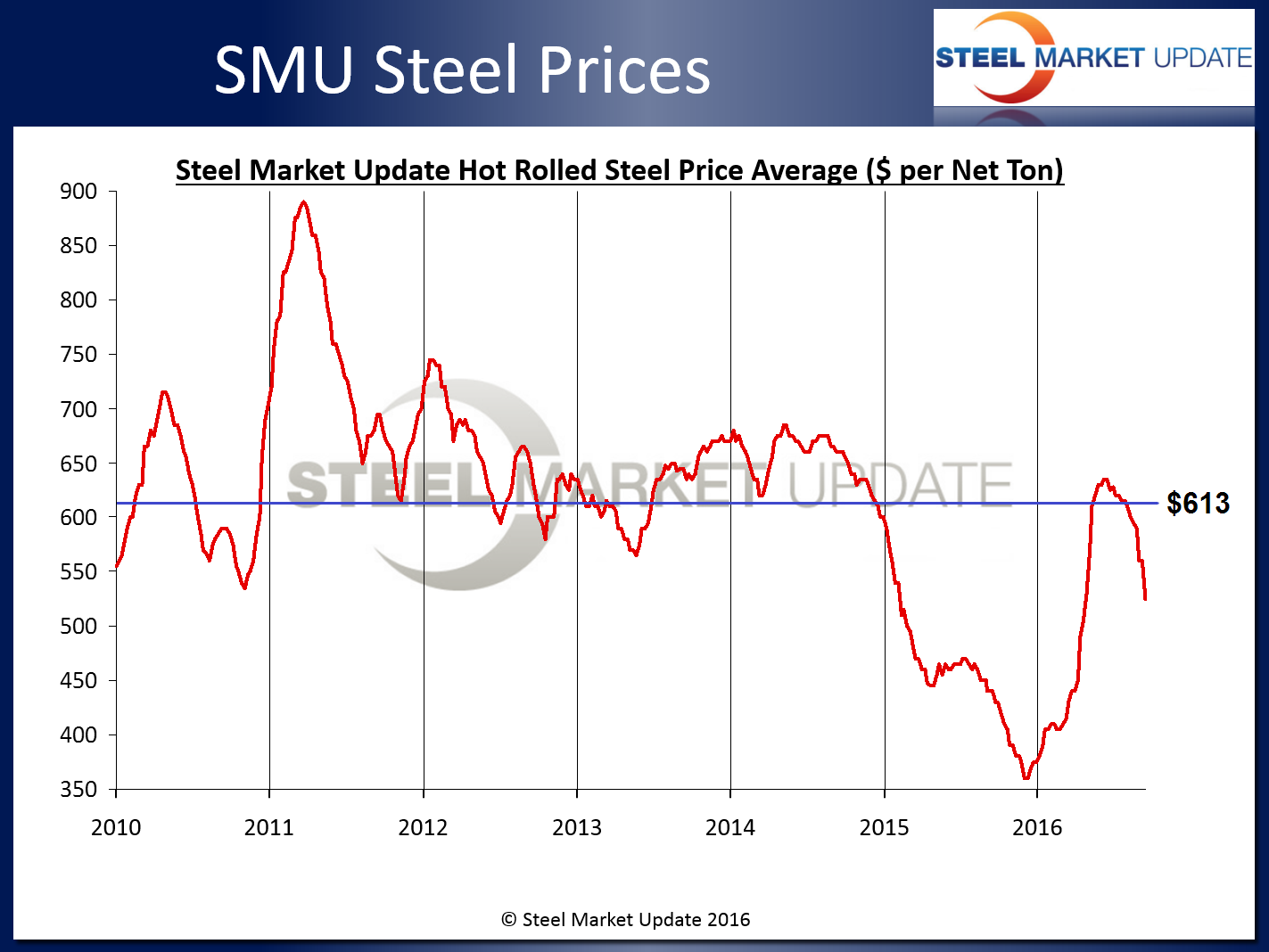 Earlier this week a service center purchasing manager told SMU, "…My bigger concern is if the steel mills give back all the price increases that they have achieved since February of 2016, then the tariffs on Chinese steel would appear to be meaningless, or at best have artificially given the mills a 6 to 9 month window of higher prices.  Mills need the discipline to turn off production and say no to lower prices, mills need to be able to make money in all market cycles, as always it will be interesting to see how it plays out."
Foreign Market Prices Rising
Foreign steel sources could help the domestic mills as prices have been rising in Europe, where ArcelorMittal raised prices in early September by 40 Euros per metric ton and three major Chinese mills (Angang, Wugang and Shougang) announced increases of $7-$15 per metric ton beginning in October. SMU also understands that the Japanese mills are raising their hot rolled prices to the rest of Asia by $30-$50 per metric ton.
On top of that our recent analysis of world export prices, and perhaps more importantly, the actual foreign hot rolled offers into the U.S. (which are few and far between). With most foreign hot rolled numbers still beginning with a "5," it makes it difficult for all but port dwelling customers to buy foreign steel. We understand there are currently some European offers for $480 HRC into USA ports. Even at this number the spreads do not work (we asked one major HRC service center if they are a buyer at $480 and we were told, "Nope").
Quite often we are asked what are some of the keys we watch to determine when prices are about to change course (higher or lower)? Steel Market Update produces a number of Key Market Indicators for our Premium level clients. But, there is one proprietary product we developed and have tested over the past eight years that has shown itself to be a useful tool when reviewing price trends: Steel Service Center Spot Prices to their End Customers.
Let me explain, twice per month Steel Market Update conducts a flat rolled steel market trends analysis. Our analysis includes mill pricing trends, changes in purchasing habits at key end user industries, our Steel Buyers Sentiment Index and other key data points. One of the items we watch carefully is spot pricing out of the domestic steel service centers/wholesalers to their end user customers.
When steel service centers are raising their spot prices to their customers they are confident that domestic mill prices are also rising and will continue to do so for a period of time. When distributors lose confidence in the mills' ability to collect price increases they tend to move their excess inventories at whatever pricing the market will bear. The more companies moving inventory the quicker spot prices drop.
Over time we were able to develop inflection points, points at which the trend had moved too far and a reversal in pricing was due to follow. As service centers dump prices in the marketplace they eventually reach of point of "capitulation", the point at which the distributors are begging the mills to raise prices as they can no longer afford to have prices slide any further.
If you look at the graphic provided you can clearly see how one year ago the service centers were lowering prices (red bars) until they reached the point of capitulation, which we calculate to be when 75% of the distributors admit they are lowering spot prices to their end customers.
The black ovals with numbers in them are AK Steel price increase announcements. We use AK Steel because they publish their price announcements as a press release on their website (transparency). Once price increases began to be announced you will see the service centers supporting those increases (green bars) by raising their spot prices.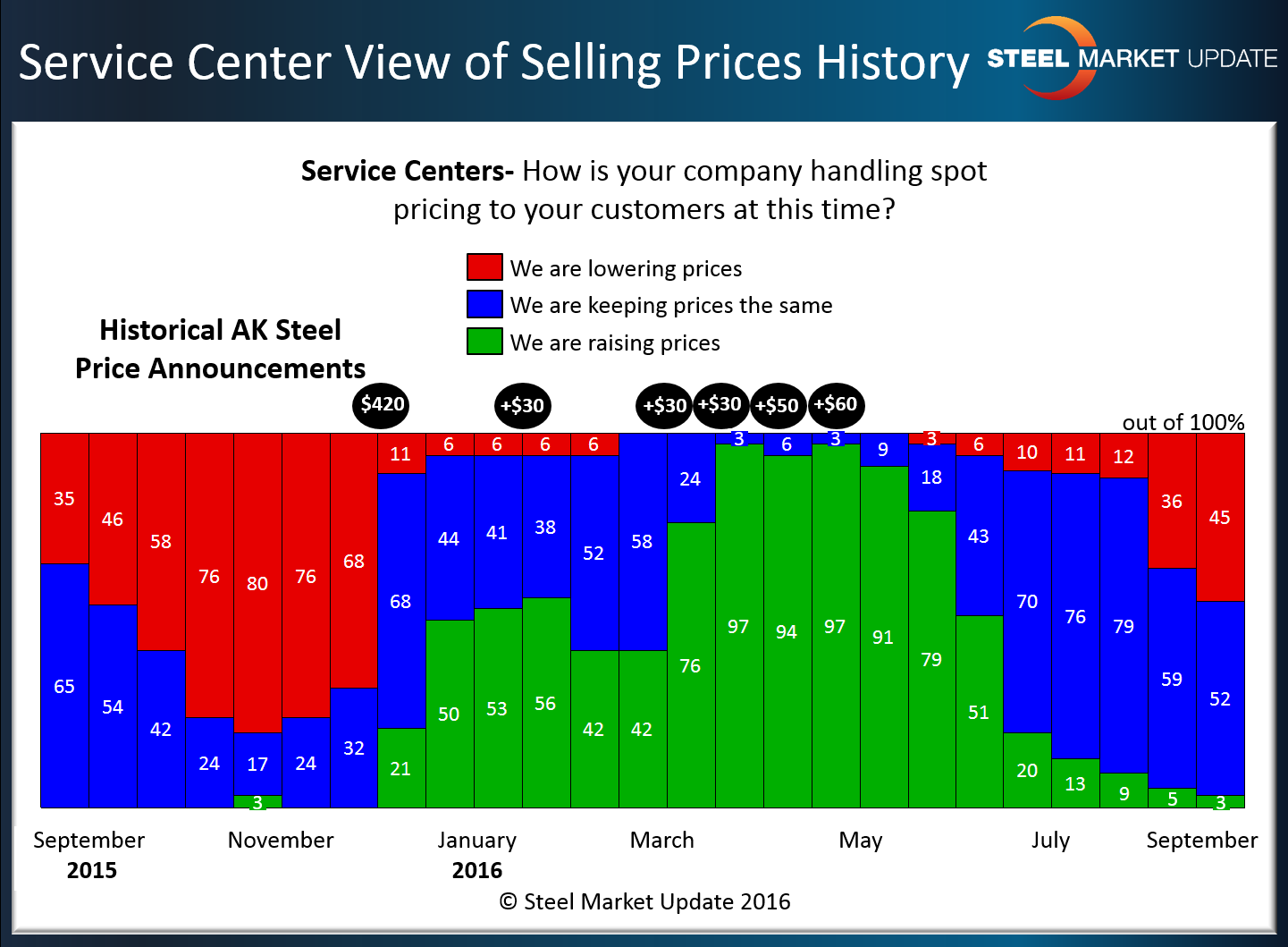 You can learn more about our Steel Market Update Key Market Indicators and other Premium level products on our website: www.SteelMarketUpdate.com. Existing Executive level members can contact our office with any questions you may have regarding upgrading your membership to the Premium level by calling us at: 800-432-3475 or by email: info@SteelMarketUpdate.com.

Latest in Steel Products Prices North America