Steel Markets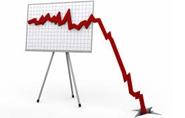 ABI Slips for Second Month
Written by Sandy Williams
October 19, 2016
---
The Architecture Billings Index posted two months of decline with September's score of 48.4 dipping from 49.7 in August. The American Institute of Architects report this is the first time since Summer 2012 that the index posted consecutive months of decline. 
The new projects inquiry dropped to 59.4 from 61.8 and the design contracts index posted at 51.4.
"This recent backslide should act as a warning signal," said AIA Chief Economist, Kermit Baker, Hon. AIA, PhD. "But this drop-off in demand could be continued hesitancy in the marketplace to move forward on projects until the presidential election is decided. The fact that new work coming into architecture continues to slowly increase suggests that billings will resume their growth in the coming months."
The regional averages were: South (53.4), Midwest (50.1), West (49.5), Northeast (44.0)
By sector the index breakdown was: commercial/industrial (50.4), mixed practice (49.8), institutional (49.0), multi-family residential (48.8)
About the AIA Architecture Billings Index
The Architecture Billings Index (ABI) is considered a leading economic indicator of construction activity, and reflects the approximate nine to twelve month lead time between architecture billings and construction spending. The regional and sector categories are calculated as a 3-month moving average, whereas the national index, design contracts and inquiries are monthly numbers. The monthly ABI index scores are centered around the neutral mark of 50, with scores above 50 indicating growth in billings and scores below 50 indicating a decline.
Below is a graph showing the history of The Architecture Billings and Inquiries Indexes. You will need to view the graph on our website to use its interactive features, you can do so by clicking here. If you need assistance logging into or navigating the website, please contact our office at 800-432-3475 or info@SteelMarketUpdate.com.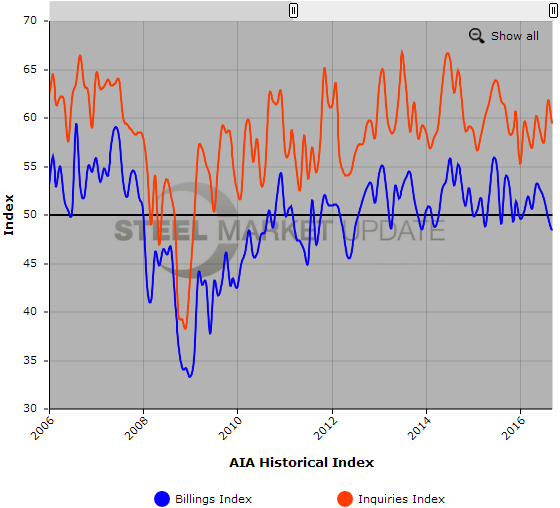 Latest in Steel Markets