Steel Products Prices North America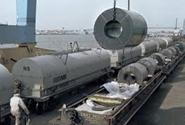 AIIS: Steel Exports September 2016
Written by Sandy Williams
November 10, 2016
---
The following is an analysis of steel export data by the American Institute for International Steel:
Falls Church, VA. November 9, 2016. Steel exports dipped 2.1 percent from August to September, remaining at roughly the same level as a year ago.
The 795,318 net tons of exports were 2 percent below the September 2015 total. Exports to both of the largest buyers of steel from the United States fell month-to-month, Canada by 4.5 percent to 389,371 net tons and Mexico by 3.4 percent to 324,661 net tons. Those totals were 1 percent and 1.6 percent below the totals from a year earlier, respectively. Exports to the European Union increased 9.5 percent to 19,364 net tons, but this was still more than 20 percent less than September 2015 exports to that area.
Year-to-date exports compared to 2015 were down 8.5 percent through the first nine months of the year at 7.09 million net tons. Aggregate exports to Canada fell 4.9 percent to 3.59 million net tons, while total exports to Mexico fell 7.5 percent to 2.77 million net tons. Exports to the European Union decreased by one-third to 182,353 net tons.
The Canadian economy has been recovering, growing at a 0.2 percent (actual, not annualized) rate in August, the third straight month of growth. Coming out of a 1.6 percent contraction in the second quarter, though, there may still be a lack of confidence north of the border that is having the ancillary effect of keeping steel use down. Mexico, meanwhile, experienced its slowest quarterly growth in two years from July to September, expanding by 2 percent. Economic uncertainty, it seems, continues to be common throughout North America, and a U.S. presidential campaign in which both major party candidates have expressed opposition to free trade may not be helping.

Latest in Steel Products Prices North America