Economy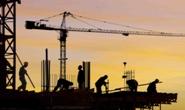 ABI Rebounds in October
Written by Sandy Williams
November 17, 2016
---
The Architecture Billings Index rebounded modestly in October, registering 50.8 after dipping below the neutral point in September and August. Fewer firms, however, reported an increase in new inquiries or in value of design contracts signed during the month. Both inquiries and design contract indexes fell for the second month in a row with the design contract index falling to 48.7 from 51.4 and inquiries down nearly five points.
Business conditions for architectural firms softened at firms in all regions except the South, reports the American Institute of Architects. Commercial, industrial and institutional planning saw modest slowdowns with only architectural firms specializing in residential building reporting better conditions.
"There was a collective sense of uncertainty throughout the design and construction industry leading up to the presidential election," said AIA Chief Economist, Kermit Baker, Hon. AIA, PhD. "Hopefully we'll get a sense of what direction we will be headed once we get a clearer read on how the new administration's policies might impact the overall economy as well as the construction industry."
About half of the firms surveyed said gross revenues increased from 2016 to 2016. About one third of firms expect no changes in revenue for 2017, 42 percent expect higher revenue and 25 percent expect lower revenue.
Only six percent of firms anticipate reducing staff levels in 2017 and 37 percent expect to increase staff positions.
Key October ABI highlights:
Regional averages: South (53.7), West (49.7), Northeast (47.3) Midwest (46.8)
Sector index breakdown: Multi-family residential (51.2), Commercial/Industrial (49.8), Mixed Practice (49.5), Institutional (49.1)
Project inquiries index: 55.4
Design contracts index: 48.7
About the ABI
The Architecture Billings Index (ABI) is a diffusion index derived from the monthly Work-on-the-Boards survey, conducted by the AIA Economics & Market Research Group. The ABI serves as a leading economic indicator that leads nonresidential construction activity by approximately 9-12 months. The survey panel asks participants whether their billings increased, decreased, or stayed the same in the month that just ended. According to the proportion of respondents choosing each option, a score is generated, which represents an index value for each month. An index score of 50 represents no change in firm billings from the previous month, a score above 50 indicates an increase in firm billings from the previous month, and a score below 50 indicates a decline in firm billings from the previous month.
Below is a graph showing the history of the Architecture Billings Index and Inquiries Index. You will need to view the graph on our website to use its interactive features, you can do so by clicking here. If you need assistance logging into or navigating the website, please contact our office at 800-432-3475 or info@SteelMarketUpdate.com.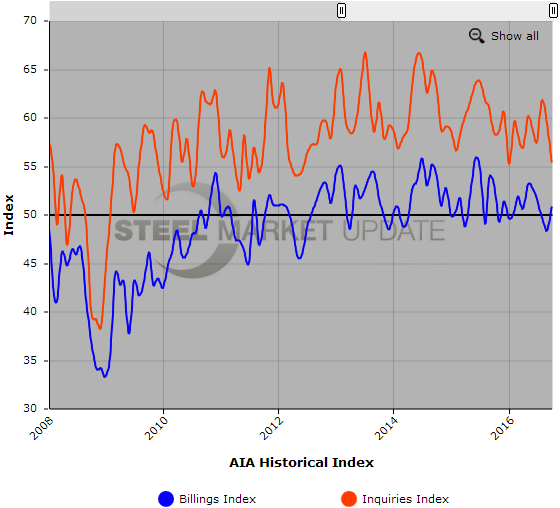 Latest in Economy