Economy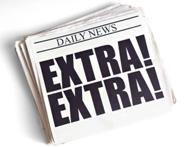 AWMI Announces New Officer Slate
Written by Sandy Williams
December 13, 2016
---
The Association of Women in the Metal Industries has elected a new President and Vice-President for 2017-2018. The election was held during the Association's 2016 Annual Conference held in Florida in November. The positions are for a term of two years. The following roles were announced in a press release from AWMI.
Carol Chizmar has been elected the 2017- 2018 President of AWMI. She has worked in the industry for 35 years in a variety of roles including sales management, supply chain and is currently working as New Business Coordinator-Fabrication. Carol works for Sapa Extrusions North America which was previously Alcoa, Alumax and Cressona Aluminum Company, all through acquisitions.
Sonya Malvick has been elected the 2017-2018 Vice-President of AWMI. She has been in the steel industry for over 20 years holding a variety of sales and sales management roles with companies such as Russel Metals, J&F Steel, and Ratner Steel. Sonya currently works for Olympic Steel as a Wisconsin Outside Sales Territory Manager.
Mary Pollen will serve another term two year as the International Marketing Chair. She is currently GM of Sales at Michigan Seamless Tube & Pipe. Victoria Zanutto-Kautz is again the International Mentoring Chair of AWMI. She is currently the AA to the General Manager at Ryerson in Livermore, California.
Two Regional Directors were re-elected for a second term: Leah Mojeski as the Central Regional Director for AWMI. Leah works for ArcelorMittal Dofasco in the National Real Estate department representing the company's Canadian holdings. Liza Godsil as the Western Regional Director for AWMI. Liza is the Outside Sales Manager for Bralco Metals in Seattle, Washington.
Becky Hites will serve her first term as the Southern Regional Director. Becky is the President of Steel-Insights, LLC.
The AWMI is a volunteer run organization dedicated to the growth of women in the metals industries. For more information please visit www.awmi.org

Latest in Economy