Steel Products Prices North America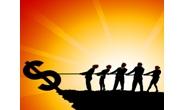 Cracks Developing in the Steel Pricing Floor?
Written by John Packard
January 23, 2017
---
Are cracks starting to develop in the floor of steel prices? Are any cracks a harbinger to a reversal of flat rolled steel prices? It is too early to tell. However, buyers and sellers of steel need to be aware of that the markets may be in the early stage of change.
Since the beginning of the New Year there has been a growing chorus of voices wondering if demand would support the five flat rolled price increases announced since late October 2016. Last week Steel Market Update produced our mid-January flat rolled steel market trends analysis. During the survey process we asked those responding to our invitation whether demand supported the increases announced both on flat rolled as well as those announced on steel plate. The results can be seen in the graphic below where a significant portion of our respondents believe the increases are not being supported by demand.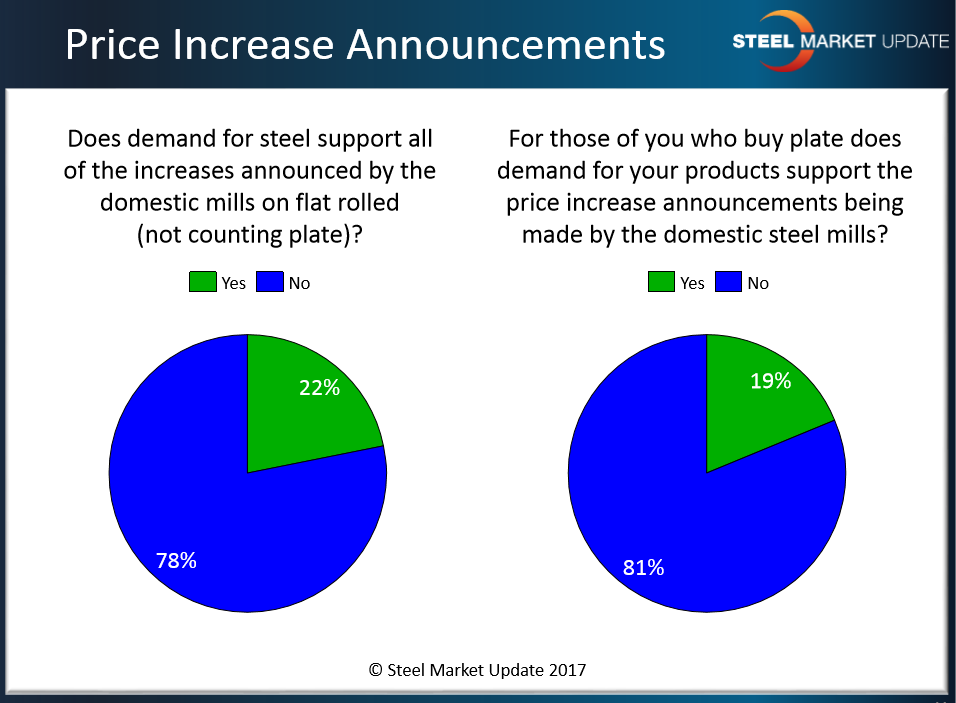 The question then becomes if demand is not supporting the increases and there is some new supply coming back into the market, are we seeing any evidence of cracks in the pricing floor?
Looking at lead times and negotiations data collected during last week's survey we did not see any cracks in the data compared to the beginning of January. Lead times were reported to be averaging 4.73 weeks on hot rolled, 7.15 weeks on cold rolled, 7.09 weeks for galvanized and 7.36 weeks for Galvalume. Each of these are almost one week extended compared to last year. However, the lead times are not as extended as what we saw during April-June 2016.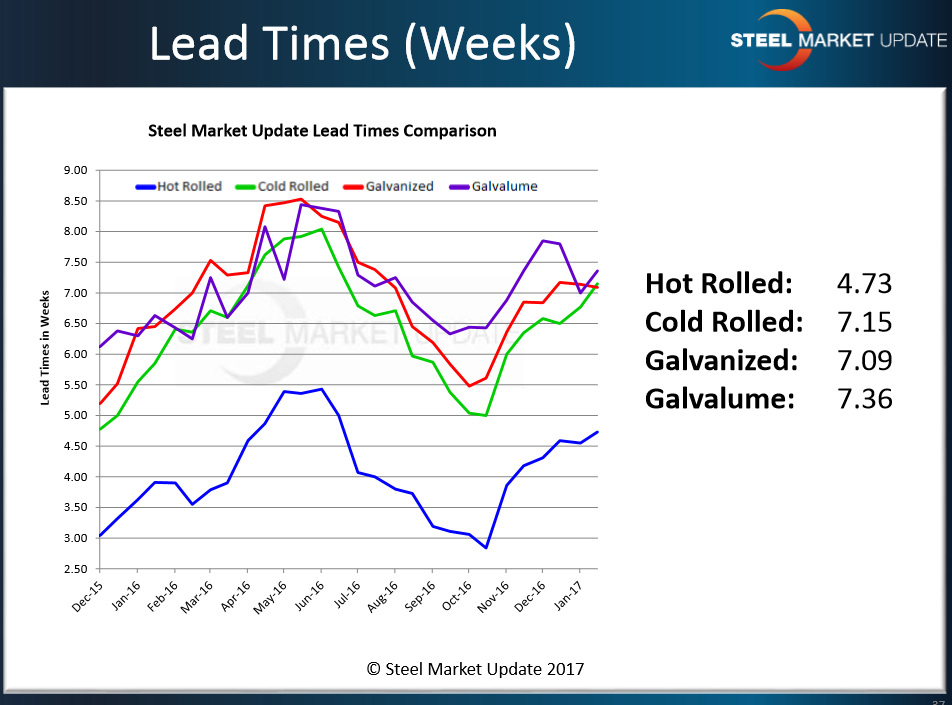 As of January 19, 2017, which was when our mid-January survey was completed, those responding to our questionnaire reported the domestic steel mills as still united behind their price increases. Those reporting the domestic steel mills as willing to negotiate flat rolled prices was less than 23 percent on each of the products tracked by SMU (HR, CR, GI and AZ).
However, on Friday, January 20th we started to pick up new information which is causing us to pause and rethink our view on the flat rolled steel market.
Ferrous scrap, which is used by both EAF (electric arc furnace) and BOF (basic oxygen furnace) steel mills, is starting to see some weakness where there was strength at the beginning of the month. One of our scrap sources sent SMU an email Friday morning:
"I'm confused because shredders are quickly dropping $20 a ton and DJJ [David J Joseph, scrap company owned by Nucor] telling guys shred will drop $20. The latest export deal was $282 for HMS [heavy melt scrap] which is down. So, shred will be down but primes could hold their prices. I know prime is what HRC needs. But with shred clearly dropping and lead times extending, I am confused. Any thoughts on this?? Just can't wrap my head around better lead times and weaker market ahead."
As Friday progressed we received a note from a large hot rolled buyer telling us that the "$640 firm" numbers on hot rolled that he shared with SMU at the beginning of the week had changed, "Seeing more $620 now" is what we were told. When asked who was offering the response was "minis." This buyer then provided the question of the day, "Not sure if they are trying to just fill a few production spots or what."
One way to find out is to see if the numbers were available to some of the larger service centers who would normally get new lower spot prices once they are available. One of the large national distributors when asked, came back and confirmed the existence of the "new" bottom numbers being offered on hot rolled.
So, now the question is will these numbers spread to other mills competing for spot business? Will the slippage in HRC affect cold rolled and coated prices or is this nothing more than a minor blip?
At this moment, the SMU Steel Buyers Sentiment Index continues to reference Higher steel prices over the next 30 days. We have been at "Higher" for 12 consecutive weeks. However, we recommend steel buyers remain vigilant, watch and listen to your suppliers and stay tuned to Steel Market Update as we attempt to determine if Momentum is in the process of changing or if the mills will be able to forge ahead from here.

Latest in Steel Products Prices North America