Economy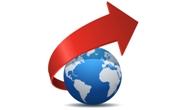 Global Manufacturing PMI Highest Since May 2011
Written by Sandy Williams
March 4, 2017
---
Global manufacturing is expanding at the fastest rate in almost six years, according to the latest JP Morgan Global Manufacturing report.
The PMI rose to 52.9 in February from 52.7 in January for its highest reading since May 2011. IHS Markit said February's expansion is continuing a trend it began a year ago and indicates "global manufacturing output is growing at a robust annual rate of 4-5 percent."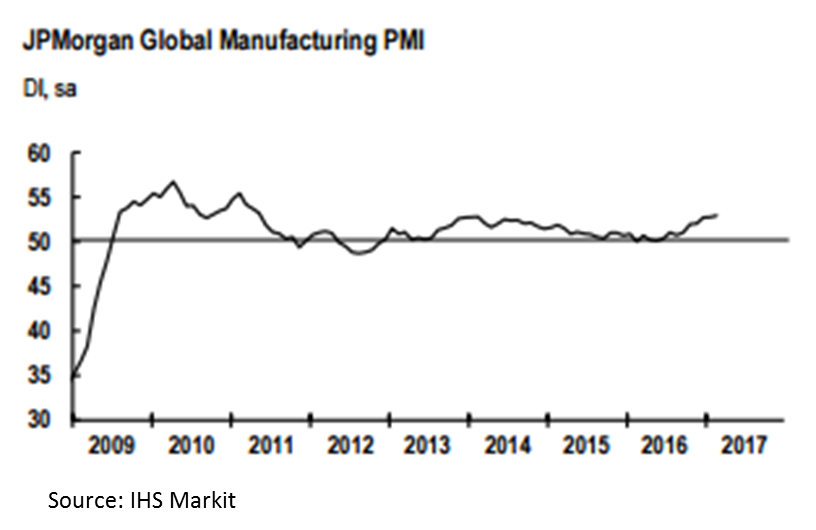 New orders and output rose at a faster rate in February which is expected to continue through March. Export orders increased at their steepest rate since March 2011. Input buying and prices rose with cost burdens passed on to customers. Supplier delivery times lengthened putting pressure on supply chains, said IHS Markit. Employment rates ratcheted up as manufacturers added workers to expand capacity in response to demand.
The six fastest growing manufacturing economies were in Europe, led by the Netherlands. The U.S. was in tenth place as exports flattened due to the strong dollar.
Brazil and Greece were two of six countries out of 28 that saw deteriorating manufacturing conditions in February.
Eurozone
Manufacturing expanded in seven out of eight nations in the Eurozone in February. The PMI was 55.4, up from 55.2. Exports increased in all the nations, except for Greece, spurred by a weak euro. The currency exchange also drove up input costs and, subsequently, output charges. Sellers markets developed for raw materials due to rising demand and lengthened supplier lead times.
Commented Chris Williamson, Chief Business Economist at IHS Markit: "Euro area manufacturers are reporting the strongest production and order book growth for almost six years, in what's looking like an increasingly robust upturn. Companies clearly expect the good times to persist. This year has seen firms more optimistic about the future than at any time since the region's debt crisis. Companies are reporting stronger demand in both home and export markets, with the weakened euro providing an accompanying tailwind to help drive sales."
Russia
Manufacturing accelerated in Russia at the beginning of the year but slowed in February. The PMI fell from January's near six-year high of 54.7 to 52.5. Expansion remained solid but at a more moderate pace. Output and new orders grew but at the weakest rate since September as the continued decline in export orders hampered the rise of total new work. Despite the slowdown in February, manufacturers remain optimistic that output will improve over the coming year.
China
Business conditions improved in China in February with a boost in output and new orders that was supported by a sharp increase in export business. The Caixin China General Manufacturing PMI was up 0.7 points to 51.7.
"The Chinese manufacturing economy continued to recover in February, said Dr. Zhengsheng Zhong, Director of Macroeconomic Analysis at CEBM Group. "But it is premature to jump to the conclusion that the recovery is entrenched. The second quarter is likely a key period to look at for future trends."
Mexico
The Mexico manufacturing PMI slipped slightly to 50.6 in February from 50.8 in January. So far it is trending toward the weakest quarterly performance since Q3 2013, says IHS Markit. Export sales increased in February but did little to increase overall business growth. Domestic demand was characterized as subdued with "fragile business conditions in domestic markets." Raw material inventories were depleted for the second consecutive month and at the fastest rate since August 2013. Manufacturers suggested this was due to attempts to improve cash flow, lower input buying and supply chain delays.
Tim Moore, senior economist at IHS Markit commented: "Mexico's manufacturing sector remained stuck in a low gear during February, with production volumes stagnating and new business growth close to the weakest seen over the past three-and-a-half years. Survey respondents noted that heightened economic uncertainty acted as a drag on domestic sales, which more than offset resilient export demand in February. Despite another challenging month, Mexican manufacturers indicated that business confidence recovered from January's five-year low. The rise in optimism was linked to longer-term expansion plans and export strategies aimed at securing clients in new markets."
Canada
Canada is back on track with a strong quarter says IHS Markit. The PMI was at a 27-month high of 54.7, up from 53.5 the previous month. On average this quarter, the PMI has been 54.1 compared to the average of 51.5 in Q4 2016. Robust growth was reported in new orders, production and input buying which contributed to new job creation. Export sales, however, remained subdued. Optimism is high within the manufacturing sector as spending increases from the energy sector.
United States
Order growth moderated in February after January's 28-month peak, along with output volumes, said IHS Markit. Inventories were higher in anticipation of improved client demand. The Markit Manufacturing PPMI was 54.2, down slightly from 55.0 in January. First quarter is expected to be the sectors strongest quarterly improvement in two years.
"Growth is being driven by robust domestic demand, stemming in turn from buoyant consumers and increased investment spending by the energy sector in particular," said Chris Williamson, Chief Business Economist at IHS Markit. "Manufacturing is far from booming, however, as the strong dollar means near-stagnant exports continue to act as a drag on growth."

Latest in Economy