Steel Mills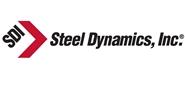 Steel Dynamics Expecting Stronger Q1
Written by Sandy Williams
March 20, 2017
---
Steel Dynamics expects a meaningful increase in first quarter profits. Earnings per diluted share are expected to be in the range of $0.77 to $0.81 compared to $0.08 per diluted share in Q4 2016 and $0.26 per diluted share in Q1 2016.
In first quarter guidance comments, SDI attributed stronger results to higher shipments and metal spread expansion. Higher average steel prices in Q1 are expected to offset increased ferrous scrap costs.
The flat rolled division is driving the anticipated earnings, said SDI, as a result of stronger demand and historically low customer inventory levels. Steel Dynamics is expecting macroeconomic and market conditions to benefit the steel industry in 2017, noting that construction and automotive remain strong, and the energy sector is beginning to recover.
Metals recycling will benefit in Q1 based on higher ferrous scrap demand and metal spread expansion from increased domestic steel mill utilization.
Steel Dynamic's fabricated segment is expected to improve from increased shipments. Demand has been strong for steel joist and deck products indicating positive growth in the non-residential construction market.
Latest in Steel Mills