Shipping and Logistics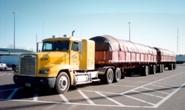 Trucking Association Urges Congress to Fund Highway Infrastructure
Written by Sandy Williams
April 5, 2017
---
There has been a lot of talk about infrastructure spending but not much in the way of actual spending or commitment to projects. Two members of the American Trucking Association told Congress on Tuesday that there is a real need for investment in the nation's highway system.
FedEx Freight President and CEO Mike Ducker and Werner Enterprises President and CEO Derek Leathers testified before the Senate Commerce, Science and Transportation Committee's Subcommittee on Surface Transportation and Merchant Marine Infrastructure, Safety and Security stressing that investment in roads and bridges is necessary for the safe and efficient transport of goods.
"ATA and its members are continuing to tell our story on Capitol Hill and at the White House about need to improve our nation's roads and bridges," said ATA President and CEO Chris Spear. "Our industry currently loses nearly $50 billion annually to congestion – that is unacceptable. We must unclog our arteries and highways and make our infrastructure safer and more efficient by investing in our roads and bridges as Derek and Mike so eloquently told the Committee today."
"Without improved surface infrastructure and wise policy decisions from Washington, FedEx and other companies cannot continue to help grow the U.S. economy and increase jobs. The need for significant investment in our infrastructure has never been more critical," Ducker said in his testimony.
During his testimony Ducker noted that America's interstate system is over 60 years old and "is in desperate need of updating." Fed Ex and ATA support federal investment in highways that is supported by user fees. Currently the industry pays more than 40 percent of the federal highway user fee and is willing to increase that if it is directed towards road and bridge improvements. New and long-term sources of funding needs to be identified, said Ducker, "to avoid over-reliance on a single option."
One of the sources is the FAST Act created to help states with highway-specific freight improvement. The Act created the National Highway Freight program that was funded at $1.24 billion per year and the Nationally Significant Freight & Highway Projects Program that was funded at $900 million per year. Ducker urged Congress to include in any infrastructure package significant increases in funding for FAST Act programs.
Leathers brought to Congress' attention the high percentage of bridges that are need in repair or replacement and how detours to avoid failing bridges increases the cost of freight transportation.
Traffic congestion in 2014 wasted more than 728 million driver hours and cost the trucking industry nearly $50 billion, said Leathers. Most of the congestion occurs on 18 percent of the interstate network creating bottlenecks that need to be addressed, he said.
"Congress should concentrate investment in major freight bottlenecks and congestion that hamper the efficient movement of both freight and passenger travel," Leathers said in his testimony. "The additional mileage and congestion combined with high freight demands and insufficient truck parking continues to cause needless added stress and frustration to our driver workforce, and can take away from their focus on safely and efficiently delivering our nation's goods."
Leathers said Werners supports free trade, including NAFTA and the DOT's cross-border trucking program. "Trade and trucking are synonymous, and the increased movement of freight yields good paying jobs and growth in American companies." NAFTA was enacted in 1995 and since then the value of goods transported by truck across Canadian and Mexican borders has skyrocketed. Trucks currently haul 70 percent of the value of goods moving across the Canadian border and 83 percent of the value of goods moving across the Mexican border.
"Any change in restricting trade between Mexico and Canada could be detrimental to the trucking industry. Furthermore, we will oppose any restrictions on the ability of Mexican carriers to cross the border and access U.S. highways, as agreed to by both parties under NAFTA, unless compelling and statistically significant evidence can be produced that demonstrates the current system presents a safety hazard to U.S. motorists."
Leathers and Ducker also raised other issues that affect the trucking industry including truck parking, driver shortage, regulations, tax reform and the introduction of automated vehicles.

Latest in Shipping and Logistics