Steel Markets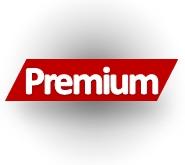 US Vehicle Sales and NAFTA Vehicle Production through April 2017
Written by Peter Wright
May 23, 2017
---
Vehicle sales improved slightly from the previous month, but they were slower compared with the first quarter average and year-ago numbers. According to J.D. Power, incentive spending in April averaged about $3,500 per new vehicle—or approximately 10 percent of the average transaction price—which surpasses the previous peak for the month of April in 2009. Furthermore, inventories are becoming a concern; automakers reported that U.S. inventories in some cases exceeded 90 days, which is well above the 60-day level thought to be ideal. In addition, the used-vehicle market is becoming more enticing for consumers.
In a piece written on May 19th Doug Adams summarized with these points: US auto manufacturing is credited with driving industrial production to its highest post in the past three years in April, rising 1 percent for the month. With aggregate consumer debt now above 2008 levels through the end of the first quarter, consumer spending appears to be pulling back, leaving an overhang of unsold cars. Ford and GM are addressing the issue by cutting costs, Ford through attrition and retirement incentives, GM via production pullbacks and labor furloughs on weak product lines. Consumers rather than investors are the likely beneficiaries in the near-term as incentive payouts increase to move out the supply overhang of unsold cars.
Vehicle sales averaged 17.2 million units, SAAR (seasonally adjusted annual rate) per month in the first four months of 2017, down from 18.1 million in Q4 2016. April sales improved slightly from 16.6 million in March to 16.9 million in April, but down 0.29 percent year on year. Light-truck sales improved from 10.3 million units in March to 10.5 million in April. Autos improved from 6.3 to 6.4 million.
Figure 1 shows auto and light truck sales since January 2004.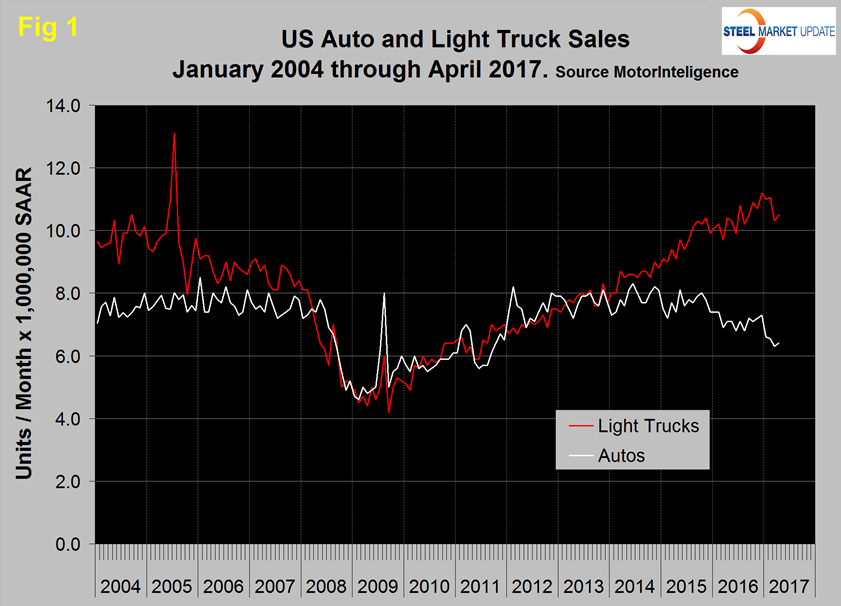 Import market share at 21.4 percent in April has changed little in the last 18 months as shown in Figure 2.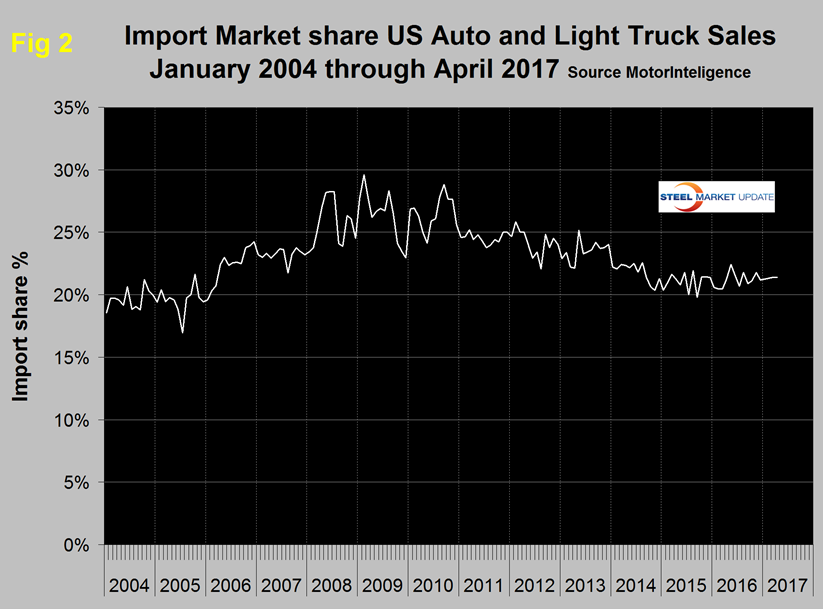 Total light vehicle (LV) production in NAFTA in April was at an annual rate, of 16.334 million units, down from 20.073 in March. Historically March has been the highest assembly month of the year. On average since 2004, April's production has been down by 8.9 percent from March. This year production was down by 18.6 percent therefore weaker than normal (Figure 3).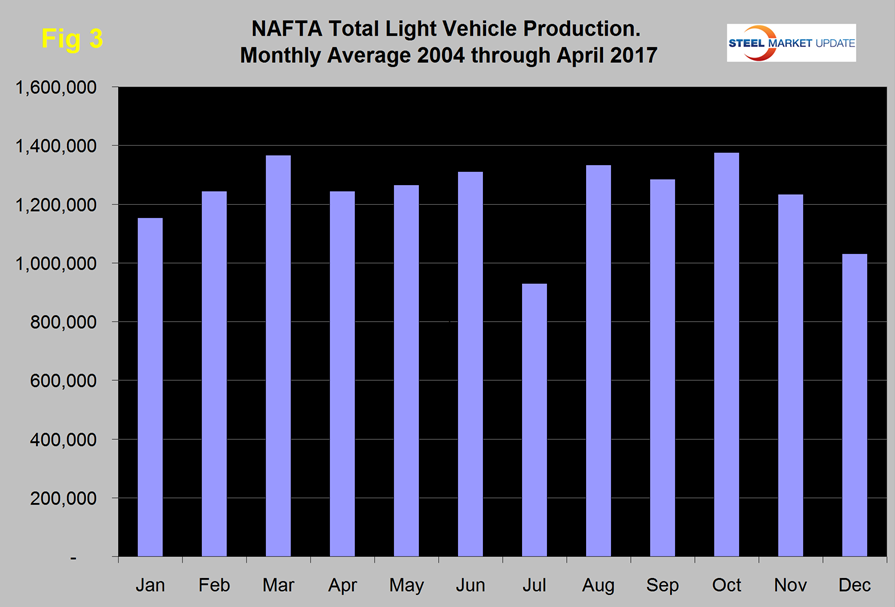 We can expect production to increase slightly through June then take a dive in July when manufacturers take their maintenance and re-tooling shutdowns. Note; production numbers are not seasonally adjusted; the sales data reported above are seasonally adjusted.
John Catterall, executive director of the Auto/Steel Partnership, spoke at the Center for Automotive Research's manufacturing summit, held April 24-25th in Grand Rapids, MI. During the sessions, speakers talked about their preferred material, including advanced high-strength steel (AHSS), aluminum and other composites. Catterall's presentation highlighted steel's innovative growth over the last 15 years to meet OEM's changing needs and highlighted 30 years of collaboration between automotive companies and steelmakers. On May 14th Audi announced that after experimenting with aluminum in its luxury models, the next A8 will switch back to steel. Scheduled for release in 2018, the body structure of the new A8 will be made up of more than 40 percent steel, following the trend of automakers opting to use advanced high-strength steels in new vehicles. That's a marked turnaround from the all-aluminum body-in-white which Audi developed for the A8.
On a rolling 12 months basis y/y through April, LV production in NAFTA increased by 1.9 percent which was up from the 1.3 percent archived in12 months through March. There has been a very gradual slowdown in growth for the last three years as indicated by the brown bars in Figure 4; however production has been higher than the previous all-time high every month since early 2016.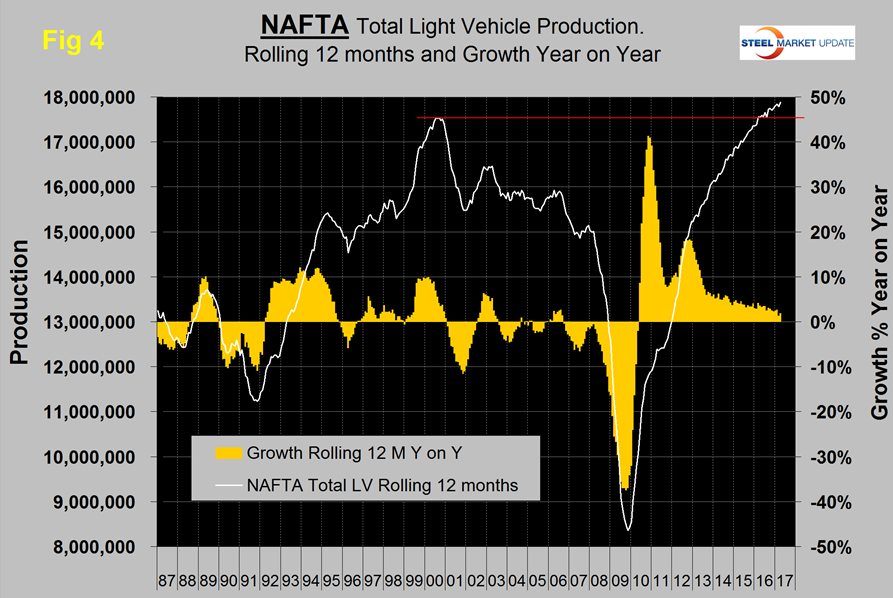 On a rolling 12 months basis y/y the US was down by 1.2 percent with negative momentum, Canada was down by 1.3 percent with negative momentum and Mexico was up by 9.1 percent with very positive momentum (Table 1).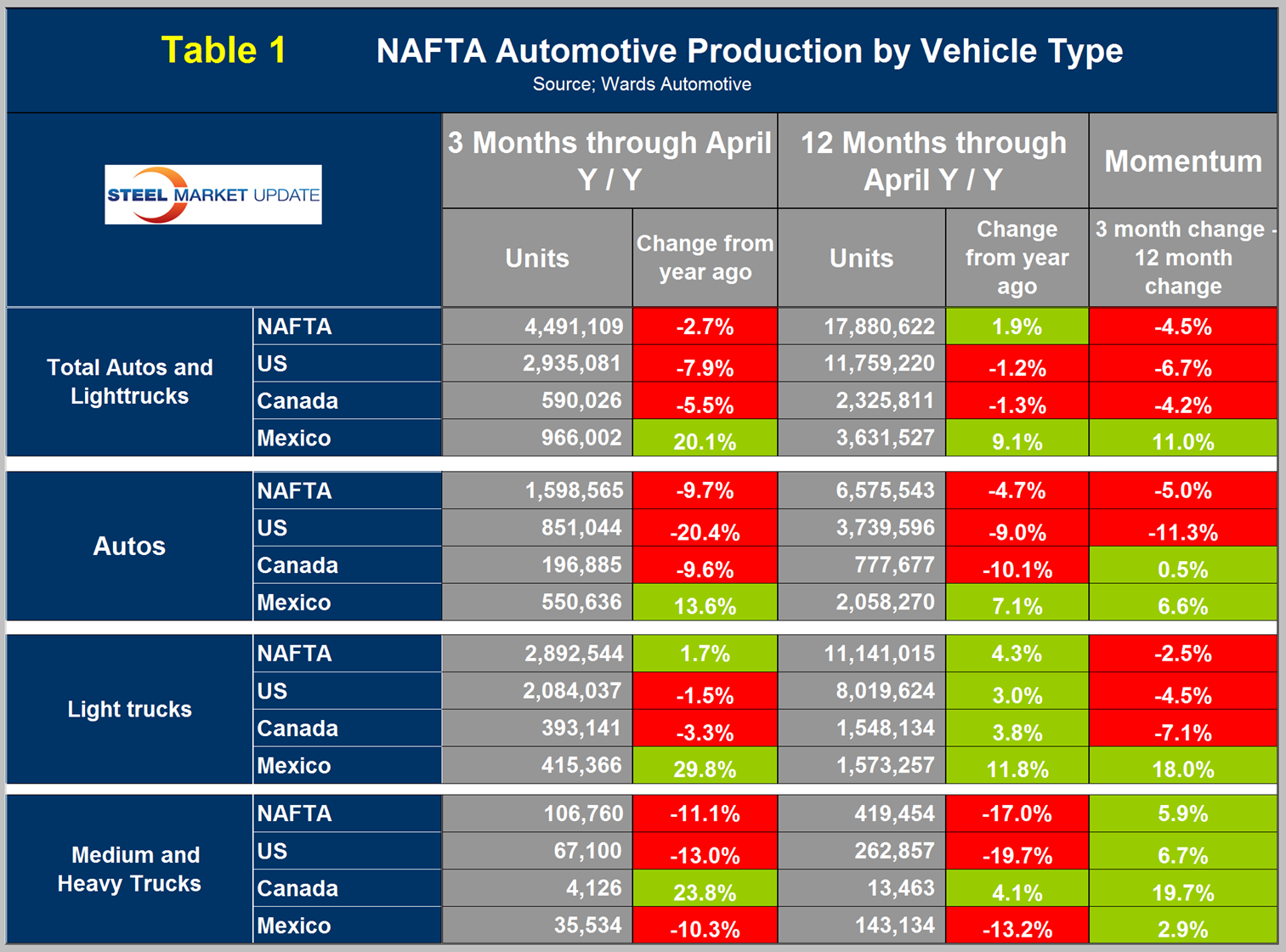 Canada has had negative momentum for ten straight months, and Mexico has been positive every month for the same period. US production share had a recent peak of 69 percent in April last year and since then has fallen to 65.4 percent in April this year. The surge in Mexican production in the last few months has been almost entirely at the expense of the US. Over the longer term, Mexico surpassed Canada's share in 2010 and the gap has been widening ever since (Figure 5).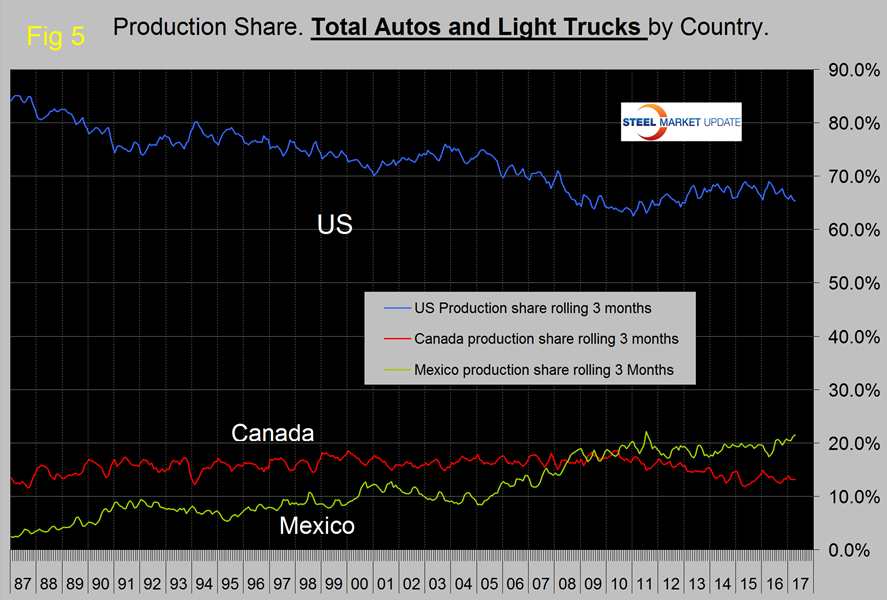 In April on a rolling three month basis, the US production share of total light vehicles was 65.4 percent, Canada's was 13.1 percent and Mexico's was 21.5 percent. The Mexican production target for 2020 is 5.0 million units according to Eduardo Solis, president of the Mexican Automotive Industry Association. This would be up from an average of 3.254 million in the 16 months since January 2016.
Figures 6, 7 and 8 show total LV production by country with y/y growth rates and on each the red line shows the change in production since Q2 2006.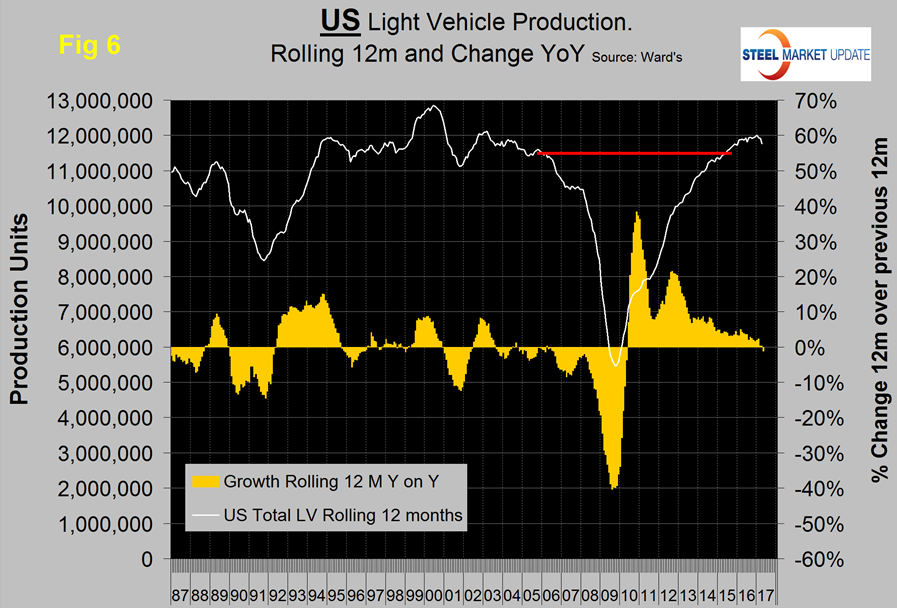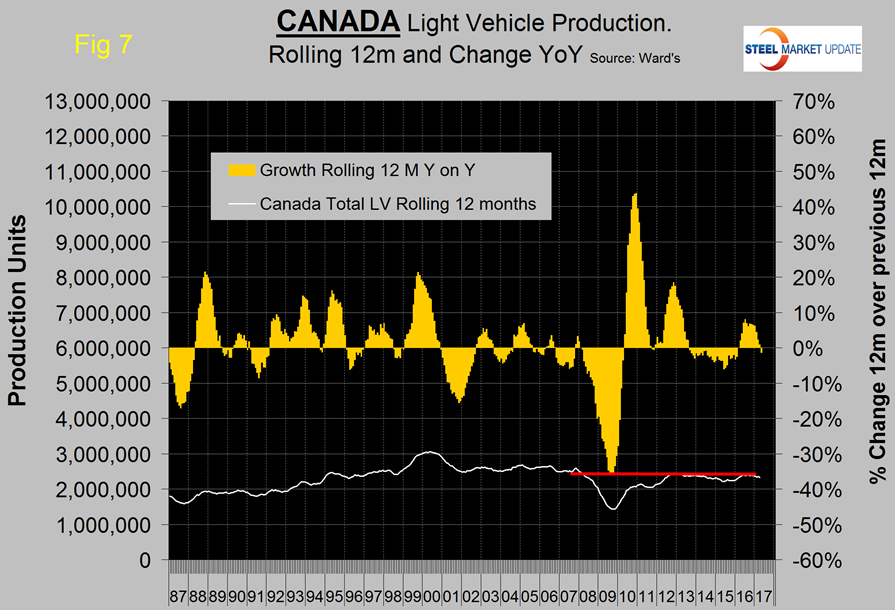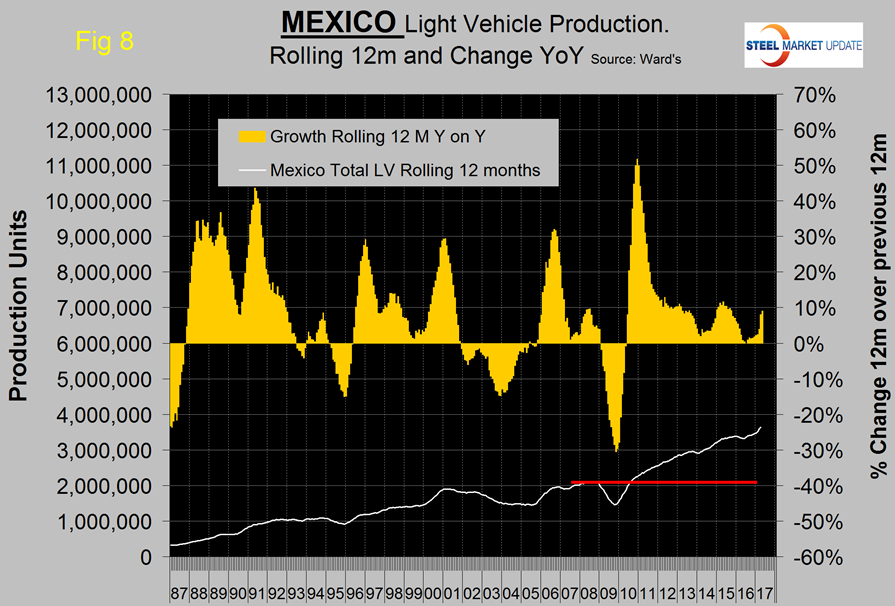 Note the scales are the same to give true comparability and that Mexican growth slowed significantly from mid-2015 through mid-2016 and has surged in the last three months.
Figure 9 shows that the percentage of autos in the light vehicle mix has been declining for all three countries since 2012, driven by consumer buying preferences which in turn are heavily influenced by gas prices.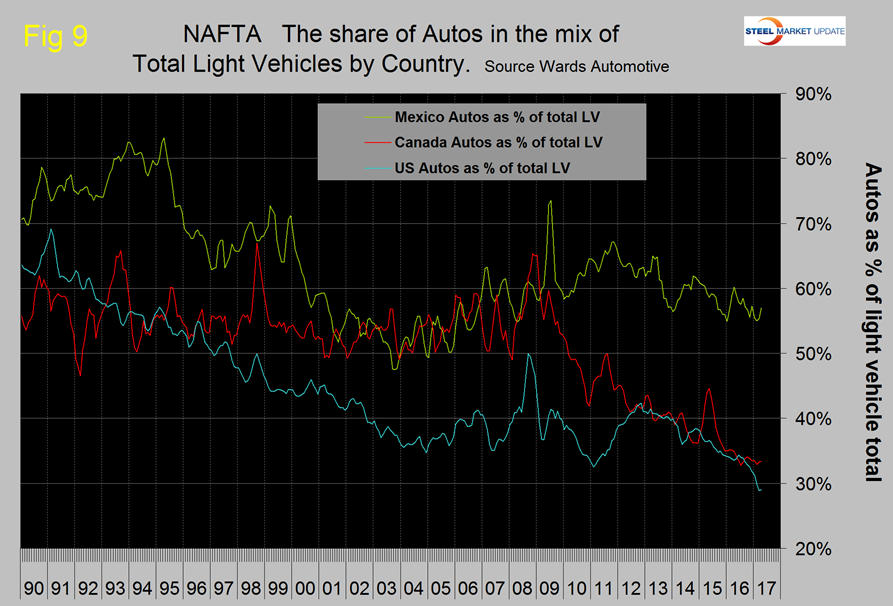 SUVs and crossovers are classified as light trucks which presumably is the main driver of the shift in mix. The change in preference for light trucks tends to favor the US and Canada over Mexico because the mix of light vehicle production capacity is different by country. The percentage of autos in the Mexican mix in the last three months was 57.0 percent but only 29.0 percent in the US and 33.4 percent in Canada. February, March and April were the first time for the auto percentage in the US mix to fall below thirty since our data stream began in January 1990. Mexico has staked out a higher relative capacity in autos which will serve it well when gas prices eventually rebound.
Ward's Automotive reported this week that total light vehicle inventories in the US were 76 days at the end of April, which was up from 72 days at the end of March. Month over month FCA's (Fiat Chrysler Automotive) inventory fell from 83 to 81 days, GM was up 1 to 99 days and Ford was down 2 to 81 days. Figure 10 shows that the overall level of inventories in the US has exhibited an increasing trend since August 2015.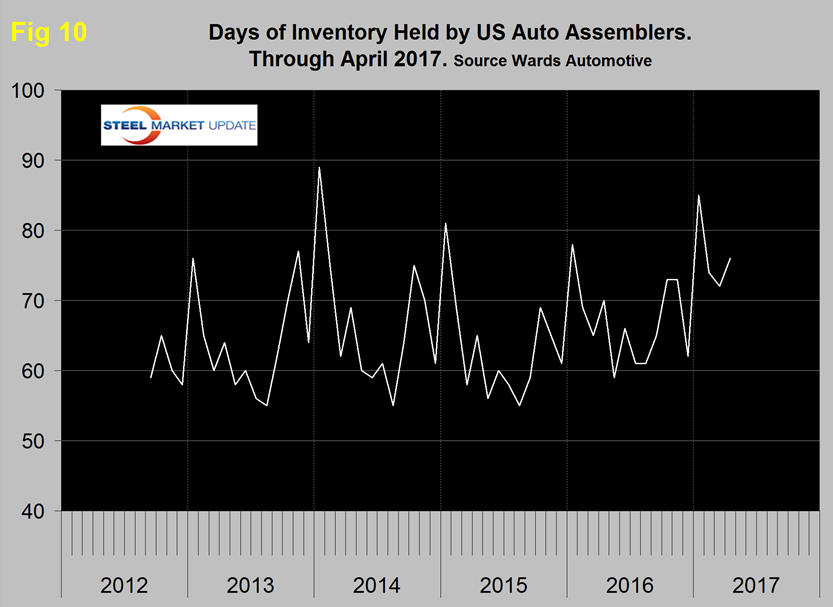 The SMU data file contains more detail than be shown here in this condensed report. Readers can obtain copies of additional time based performance results on request if they wish to dig deeper. Available are graphs of auto, light truck and medium and heavy truck production and growth rate and production share by country.

Latest in Steel Markets