Steel Markets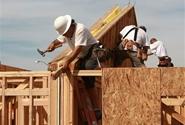 Multifamily Brings Housing Starts Down In May
Written by Sandy Williams
June 16, 2017
---
Housing starts dipped 5.5 percent in May to a seasonally adjusted annual rate of 1,092,000, from April's revised estimate of 1,156,000, according to data from the U.S. Commerce Department. Single family starts dropped 3.9 percent, while starts for buildings with five or more units fell 9.8 percent.
Regionally, total starts were flat in the Northeast and gained 1.3 percent in the West. Starts in the Midwest and South were down 9.2 percent and 8.8 percent, respectively. Single family starts did make gains in two of the regions, up 12.95 percent in the Northeast and 9.95 percent in the Midwest.
Permit authorizations, an indicator of future construction, also declined from April to May. Permits were at a seasonally adjusted annual rate of 1,168,000, a 4.9 percent decline. Single family authorizations inched down 1.9 percent and multi-family authorizations fell 10.1 percent.
The regional breakdown shows Northeast permits were up 3.3 percent for all housing types, and 1.9 percent for single family. The other three regions showed declines across the board except for single family authorizations in the South, which grew by 2.4 percent.
"After a strong start for single-family building this year, recent months have recorded softer readings," said National Association of Home Builders Chief Economist Robert Dietz. "However, on a year-to-date basis, single-family starts are up 7.2 percent as builders add inventory to the market."
Labor shortages continue to be an issue for the housing industry, said Granger MacDonald, chairman of the NAHB. "Ongoing job growth, rising demand and low mortgage rates should keep the single-family sector moving forward this year, even as builders deal with ongoing shortages of lots and labor," said MacDonald.

Latest in Steel Markets