Steel Mills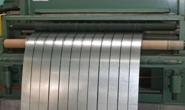 Kloeckner Expands in Greenville to House New Slitter
Written by Tim Triplett
July 19, 2017
---
Kloeckner Metals is investing $11.3 million to expand its Greenville, S.C., operations. The expansion will add 50,000 square feet to the facility to house a new high-speed slitting line capable of processing aluminum and advanced high-strength steel. The company plans to begin operating the new line by Sept. 1.
"We wanted a slitting line that would look forward to the future of processing ever-more-demanding customer specifications, including advanced, automotive-grade steel and aluminum. We specified a highly automated line with sophisticated technology features that will deliver a highly efficient and capable value proposition for our mill partners and customers," said Kloeckner Metals Vice President Automotive Bob Cromley.
The new slitting line, from ALCOS Machinery, Inc., can handle material up to a quarter-inch thick and 84 inches wide. It's designed with oversized arbors and other enhancements to stand up to the rigors of processing high-strength steels, as well as sophisticated automation for packaging and inspection, among other features. It can handle an entry coil weight of 40 tons, double the line it replaces. "It will be good for the mills. They can bring us the biggest coils they make and we will be able to handle them," Cromley said.
Kloeckner's Greenville plant serves a diverse customer base in the region, not just automotive. "We process a lot of critical parts for customers and meet a lot of demanding customer specifications. We have to measure up to what they want now and what they will want in the future," he said.
Kloeckner is unconcerned about the reported slowing of automotive production, after seven years of record growth. "We're investing for the long haul. The market will move up and down," he added.
Kloeckner's Greenville project comes on the heels of an even bigger expansion in the Midwest. Earlier this year, Kloeckner's Flat Rolled Group relocated its Chicago service center to a new 106,000-square-foot warehousing and processing facility in University Park, Ill., a south suburb.
Headquartered in Roswell, Ga., Kloeckner Metals services more than 8,000 metalworking businesses throughout the United States, Puerto Rico, Mexico and Canada. The company ships carbon and nonferrous metals from inventories stocked in over 50 locations throughout North America and utilizes the latest processing equipment to meet customers' evolving needs.

Latest in Steel Mills